Geography
Ms. A Adade (Subject Leader of Geography)
Mr. N Lawrence (Assistant Principal and Geography Teacher)

Miss. L Al-Mousili (Geography Teacher)
Geography at Bonus Pastor is about giving our pupils an understanding of the world around them, the challenges that it faces, and how we can best solve these, by giving them a breadth of understanding of a range of processes, and knowledge, in a range of locations across the globe. Pupils become problem solvers, decision-makers, cartographers, and responsible, employable, global citizens.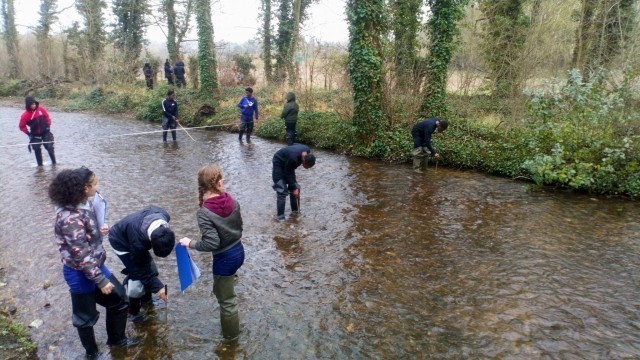 Geography at KS3:
Lessons are compulsory in Key Stage 3, and pupils receive 4 periods a fortnight, which is incredibly varied. Pupils one day will be using maps and globes, to another day re-enacting global trade relationship deals, to experiencing what it is like to be a fair trade farmer, representing population changes with Jelly Babies, to solving problems and making decisions such as how to redevelop a slum, stop coastal erosion or when to evacuate during an eruption.
Alongside this, our pupils learn the practice, and develop a wide range of fieldwork skills which are both important for GCSE Geography but also are highly employable. These include planning enquiry investigations, collecting primary and secondary data from a range of locations before analyzing the data back in class, and presenting it using a range of graphs and maps.
Fieldwork takes place throughout Year 7 and Year 8 with us exploring the school grounds and the local surrounding area at the beginning of Year 7, before venturing to the beach in the summer. Year 8s build slums and create their own disaster zones.
For a full list of our topics studied please see the Topic Overview download at the bottom.
Homework is set normally once a fortnight and will include practice and consolidation of work they have carried out in class, research tasks, stretch and challenge activities and focused improvement tasks.
Geography at KS4:
Geography is not compulsory at GCSE, however, students are strongly advised to pick either Geography or History, in order to study the EBacc, and students continue to develop their skills and understanding from KS3, revisiting and building upon a number of topics studied such as Rivers and Coasts, Population and Development and Natural Hazards, whilst also studying new topics such as Resource Management, Urban Regeneration, and Ecosystems.
More details can be found out about GCSE on the section at the bottom of this page.
Resources:
The Department is well equipped with 2 dedicated teaching rooms housing a range of resources and fieldwork equipment, alongside having a number of links with wider organizations such as the Met Office, Royal Geographical Society, and Geographical Association, Deptford Creekside Trust and local planning officers.
Enrichment and Extra-Curricular Activities:
The department runs a fortnightly Geography Society after school club on Tuesdays (Week 1 timetable) for any students who are interested in learning more about contemporary global issues as well as taking part in a variety of interactive activities and some exciting experiments. The Bonus Pastor Geography Society is a global learning programme designed to explore and understand our links and interdependence between the environment and other people, both globally and locally. It is based on an understanding that our actions will have an impact on others and on future generations. This is a value-based programme from a Catholic perspective of stewardship and 'care for our common home' (based on Pope Francis letter to the people of the world, Laudato Si). Students explore a range of different themes in a fun, interactive and engaging way. This programme is delivered using resources from CAFORD (Catholic Agency for Overseas Development); supported by the British Council and UK Aid.
Fieldwork is a key and fundamental part of Geography and fieldwork trips include:
Year 7 trips to the beach
Year 8 Thames Water trip
Year 9 trips to the river and the beach
Y10 Residential trip to the Lake District
Y10/11 Day trip to the London Olympic Park
Challenge and Reward trips are also run throughout the year to reward those pupils who are making excellent progress and to challenge their understanding further, with previous visits including, Deptford Creekside Centre, the River Ravensbourne to investigate flooding, Kingsgate Bay in Kent for coastal fieldwork, Orienteering in Mote Park in Maidstone, Lectures at the South Bank Centre, University Earth Sciences Workshop at St Dunstan's College, and inviting in the Royal Geological Society to run Disaster Workshops!
For photos of these check out the Geography Fieldwork Section of the Galleries page and check out the Geography News page.
Competitions are also run throughout Year 7 and Year 8 to stretch and challenge pupils' understanding and develop independent learning skills, such as researching a coastline, making a disaster zone model, or a river.
There is also a 'More Able' after school programme run collaboratively with the English Department designed to stretch our More Able students; boost their thinking skills; get them involved in more in-depth discussions and develop their ability to carry out independent projects. Students have meeting with a member of staff several times throughout the year.
The department runs fortnightly after school intervention for Year 11 GCSE pupils each Tuesday after school (Week 2 timetable), alongside additional Saturdays and holiday interventions throughout the year. There are also several additional after school revision sessions provided for Geography Year 10 students throughout the year.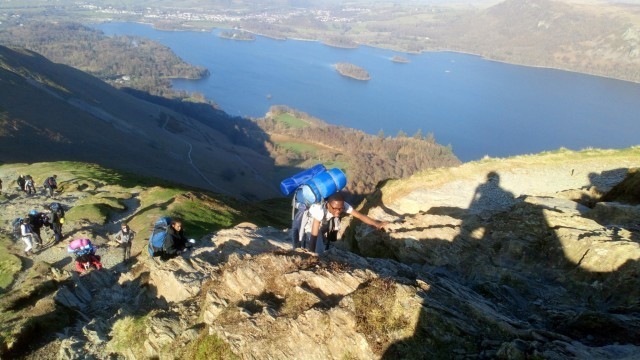 Any questions? Email our Head of Department:
Ms A Adade at AdadeA@bp.lewisham.sch.uk
GCSE Geography
Qualification: GCSE
Exam Board: AQA
Tiers of Entry: Single
Geography is not compulsory at GCSE, however, students are strongly advised to pick either Geography or History, in order to study the EBacc.
GCSE Geography gives students the keys to help them understand and unlock the world and its issues and the challenges that we face both now and in the future. Most importantly it equips pupils with the skills to try and help make decisions and solve these challenges, helping make them not only employable but also active, globally responsible citizens.
Course Content and Assessment:
Geography at GCSE is traditionally a popular option at Bonus Pastor and can form a key part of the English Baccalaureate (EBacc). We follow the AQA specification, which is made up of:
Paper 1: Physical Geography (topics including Natural Hazards, Climate Change, Rivers, Coasts, and Ecosystems) This is 1 hour 30 minutes and worth 35%
Paper 2: Human Geography: (topics include urban areas in LICs and HICs, Economic Development in the world and in the UK, and the UK's interdependence) This is 1 hour 30 minutes and worth 35%
Paper 3: Geographical Skills: (there are 3 sections to this exam, a Decision Making Pre Release Element, Unseen Fieldwork, and then Our Fieldwork Enquiry) This is 1 hour 15 minutes and worth 30%
Resources for the GCSE exam assessed in the Summer of 2018 onwards including the specification and specimen papers can be found on the AQA website on the link below
Homework:
Homework at KS4 is normally set at least once a week in Years 9 and 10, and more frequently in Year 11. This will often involve exam practice questions, and pupils consolidating their knowledge from lessons or completing revision activities in preparation for mini formative assessments throughout the half term. Homework and revision materials are also available for pupils to access remotely on Google Classroom.
Revision:
Pupils are advised to buy the CGP GCSE Geography AQA 9-1 Complete Revision and Practice book, these are available from the department at a cost price of £6 (RRP £10.99 ). A separate practice book is also available to purchase at the school for £4 (RRP £5.95)
The department also has a range of revision flashcards that pupils can purchase for £5 Please note if you are in receipt of, or have recently been in receipt, of Free School Meals, these resources will be provided for free.
Progression:
Geography is considered a key subject by many 6th forms and colleges, universities and employers as it gives students a wide range of skills and knowledge from a range of other disciplines.
A number of our students each year go onto study A Level Geography, and it has links with A Level Economics, History, Politics and Sociology. It can also link with a BTEC in Travel and Tourism.
At University students may study a range of Geography related degrees from a traditional BA/BSC Geography degree, to Earth Science, Geology, Oceanography, Town Planning.
Careers:
Beyond that, a Geography Degree can lead graduates into a wide range of careers from:
Finance, banking, and insurance
Environmental Management (such as working for the Environment Agency, Defra, etc)
Developmental Charity Sector
Civil Service and Local Government
Logistics and Distribution
The armed forces
Weather forecasting and presenting
Civil Engineering
Architecture
Town Planning
Wildlife conservation
Education
For more information about Geography, related careers visit
Latest Geography Department News
Geography Reward Trip - Kingsgate Bay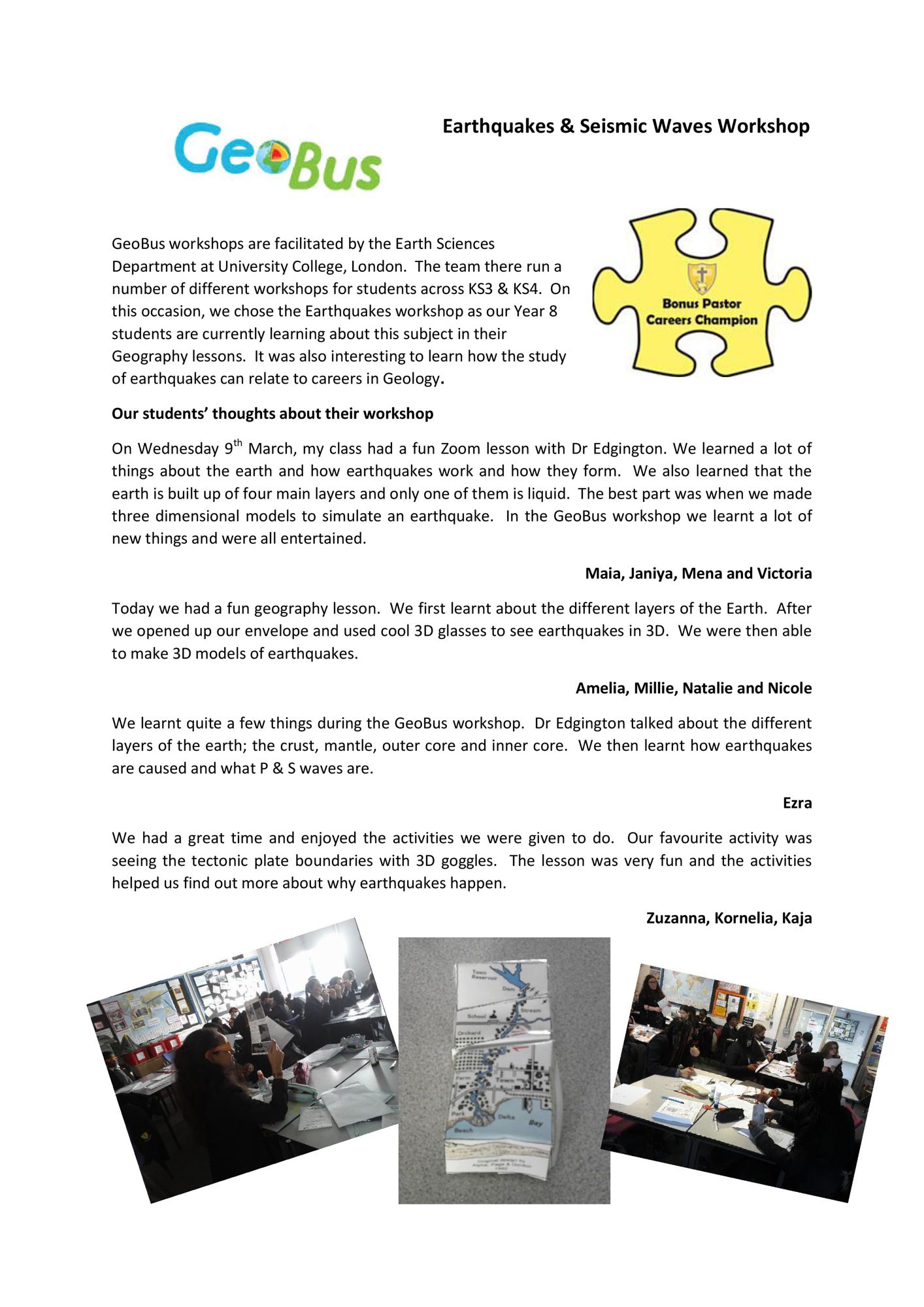 Geography COP26 Competition Winner
The Future Belongs To Us
Written by Lana Togbeto, 9CA
The future belongs to me,
That's what I want to believe.
The future belongs to you,
So what are you going to do?

Are you going let it burn,
Letting animals die in turn?
Will you watch the storms ravage,
As a cause of all our damage?

Will you watch the plastic in the sea?
Watch the turtles struggle to get free?
When the coral reefs are dying,
Why would you be crying?

Aren't you the cause of it all?
Didn't you watch those trees fall?
Didn't you see the plastic on the beach?
But you said, 'it was out of my reach'.

Didn't you hear the signals to save,
What Mother Earth so kindly gave?
However, it's not just you, it is us all.
But to save the future you must make your call.

The future belongs to me,
That's what I want to believe.
The future belongs to you,
So what are you going to do?

Will you be so amazed
With the amazon we saved?
Hopefully, it won't be surprising
When the sea levels stop rising.

When the ice cliffs stop falling,
Won't that be rewarding?
When the air is clean,
And when our society is green.

Won't you be at peace,
When the disasters decrease?
Don't you want to believe,
That we'll stop at two degrees?

The future belongs to me,
That's what I want to believe.
The future belongs to you,
So what are you going to do?

The future belongs to us,
This we cannot discuss.
We have the power to change,
And atone for our mistakes.

The future belongs to me,
The future belongs to you,
The future belongs to us,
So what do we choose to do?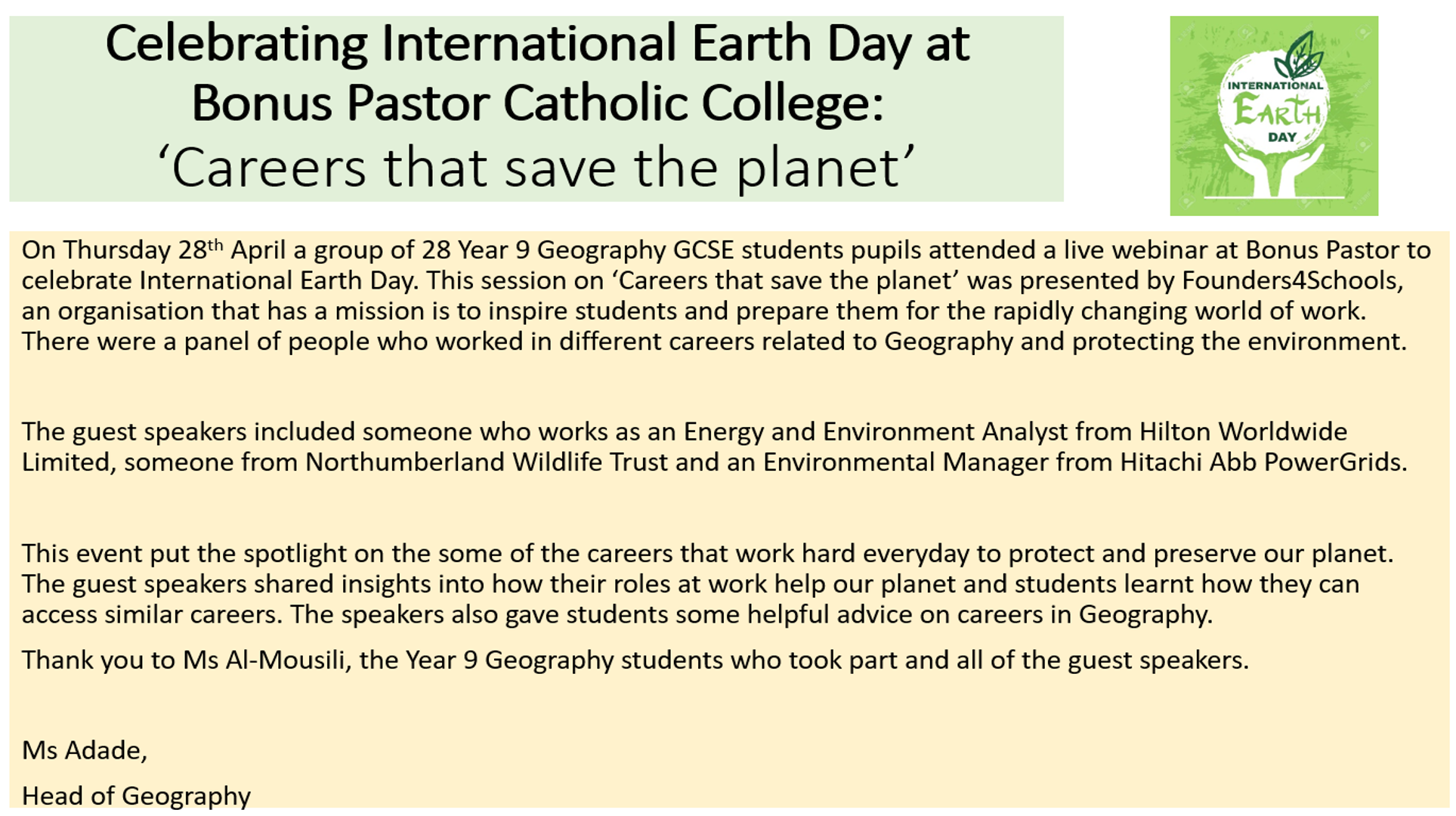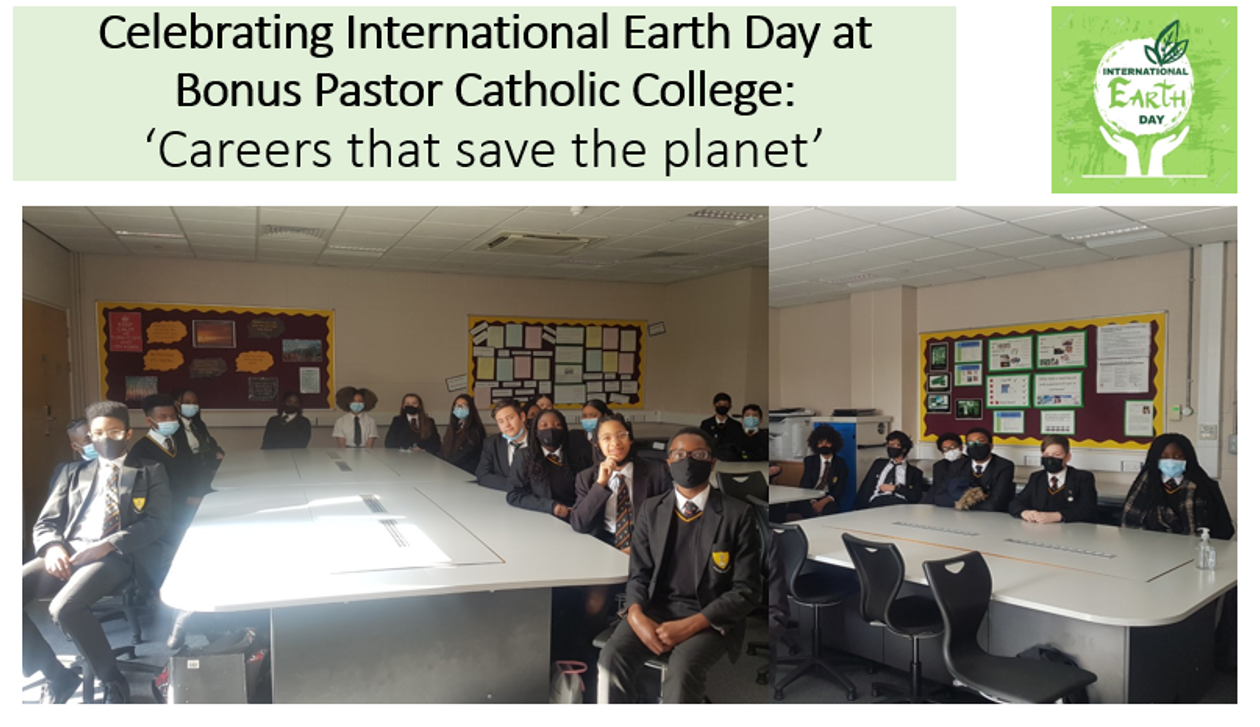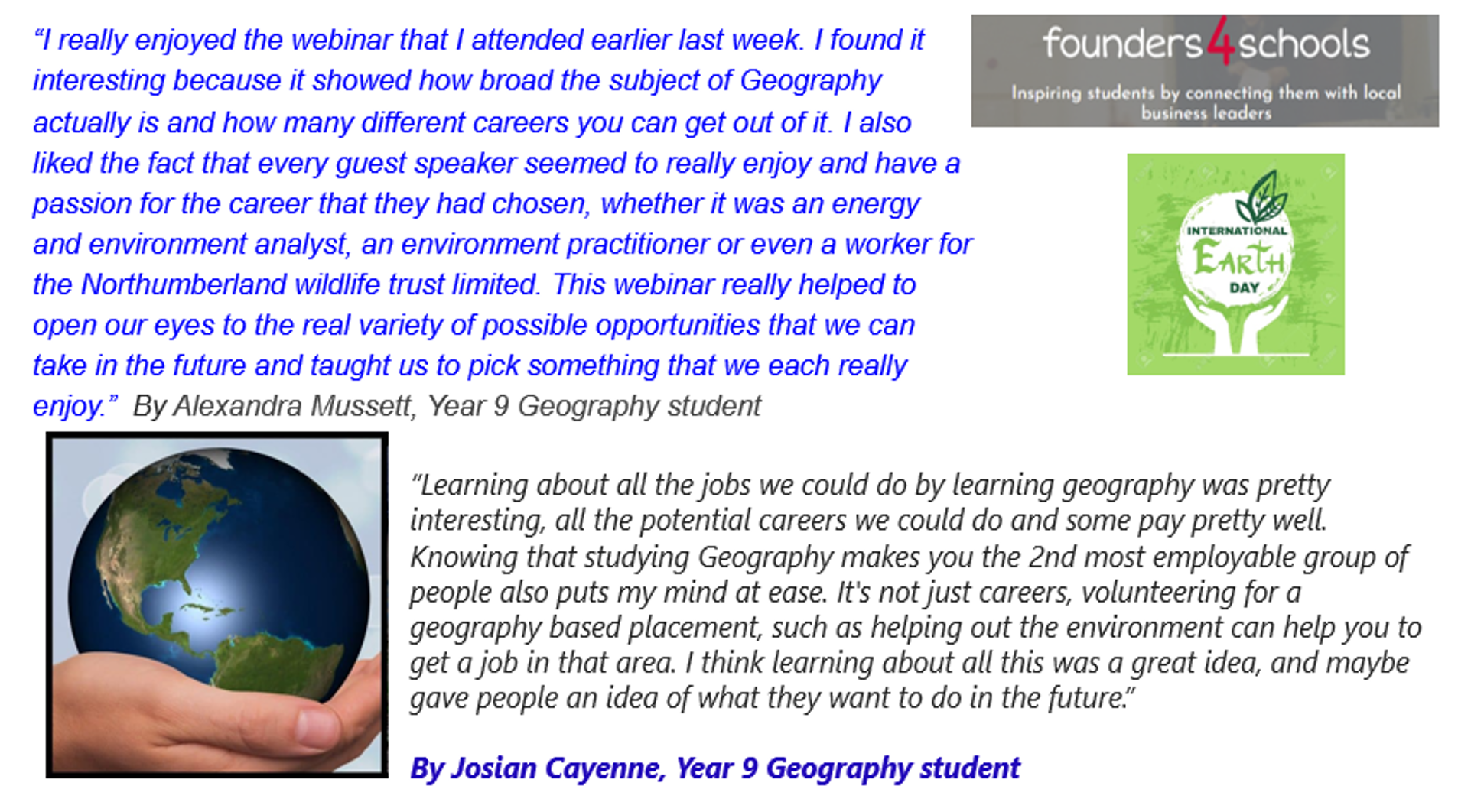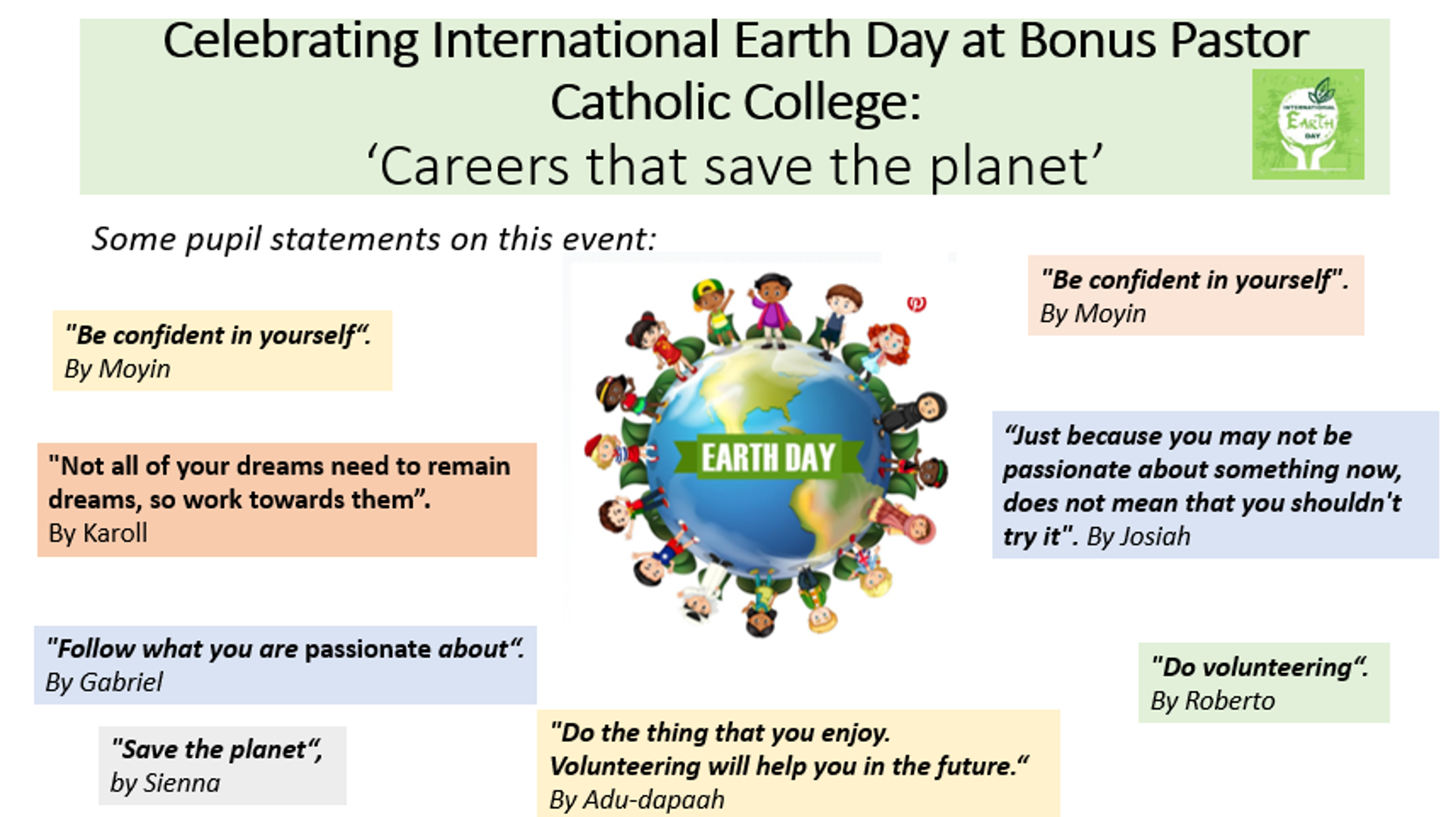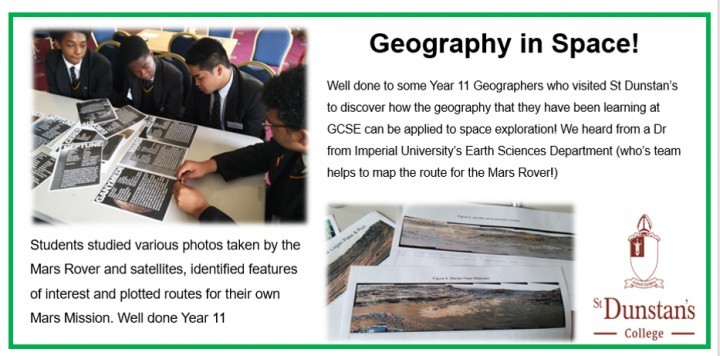 Y9 GCSE Trip to the River Darent 2019
Each year every Y9 GCSE Geographer visits the River Darent for a day, where we follow it from it's source near Westerham, down to it's mouth at Dartford. Over the course of the 5 different sites that we visit each group gets the opportunity to wade in (kitted out with a pair of waist high waders to dry and keep dry!) and conduct a series of fieldwork experiments, ranging from measuring the gradient of the river valley, the river's cross section, it's velocity and the sediment load. Ultimately pupils get the opportunity to gaining valuable skills in conducting fieldwork, just like they would do in the world of work, whilst also testing out their various hypotheses and theories they have learnt in the classroom, and can begin to critique them.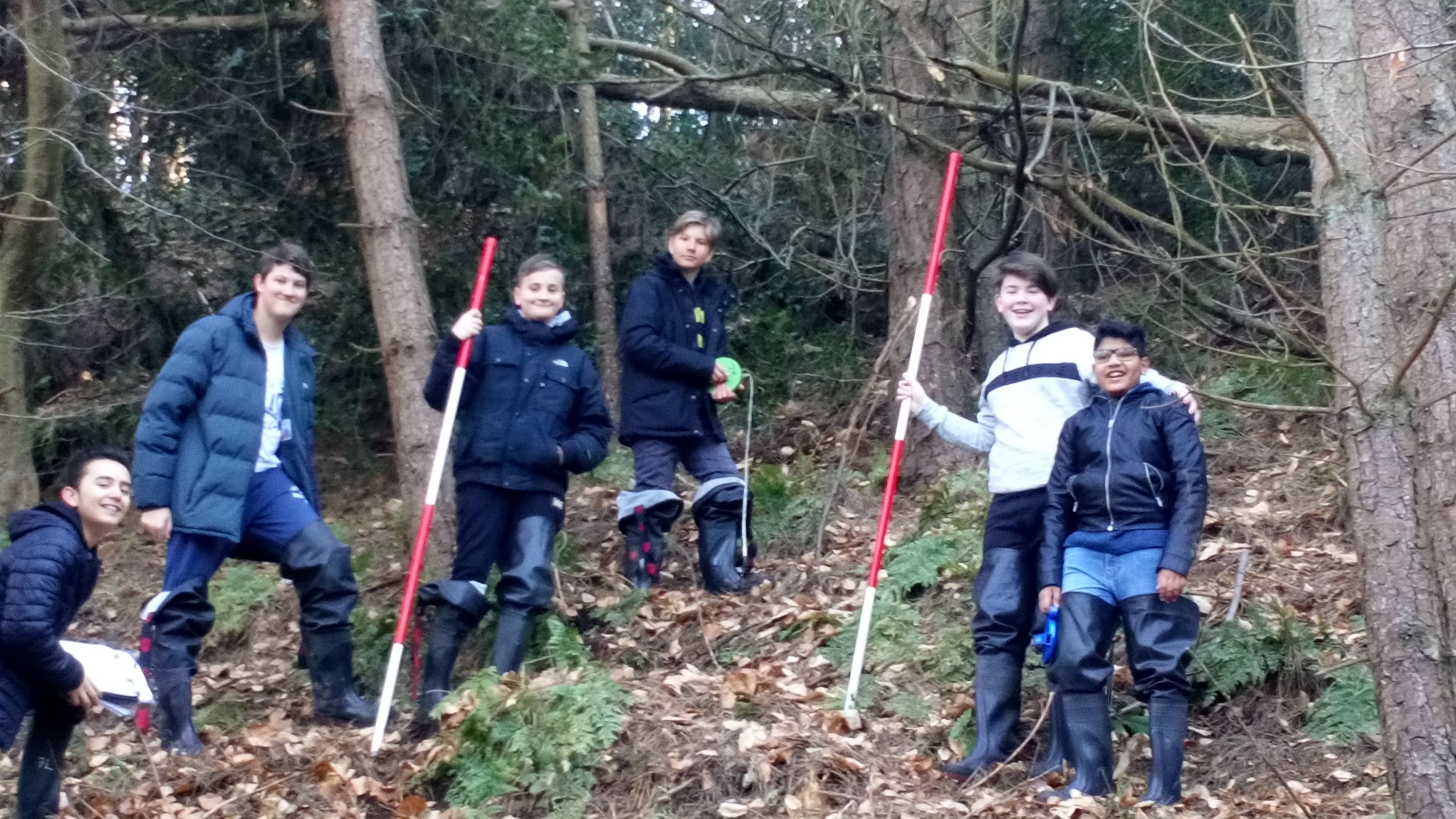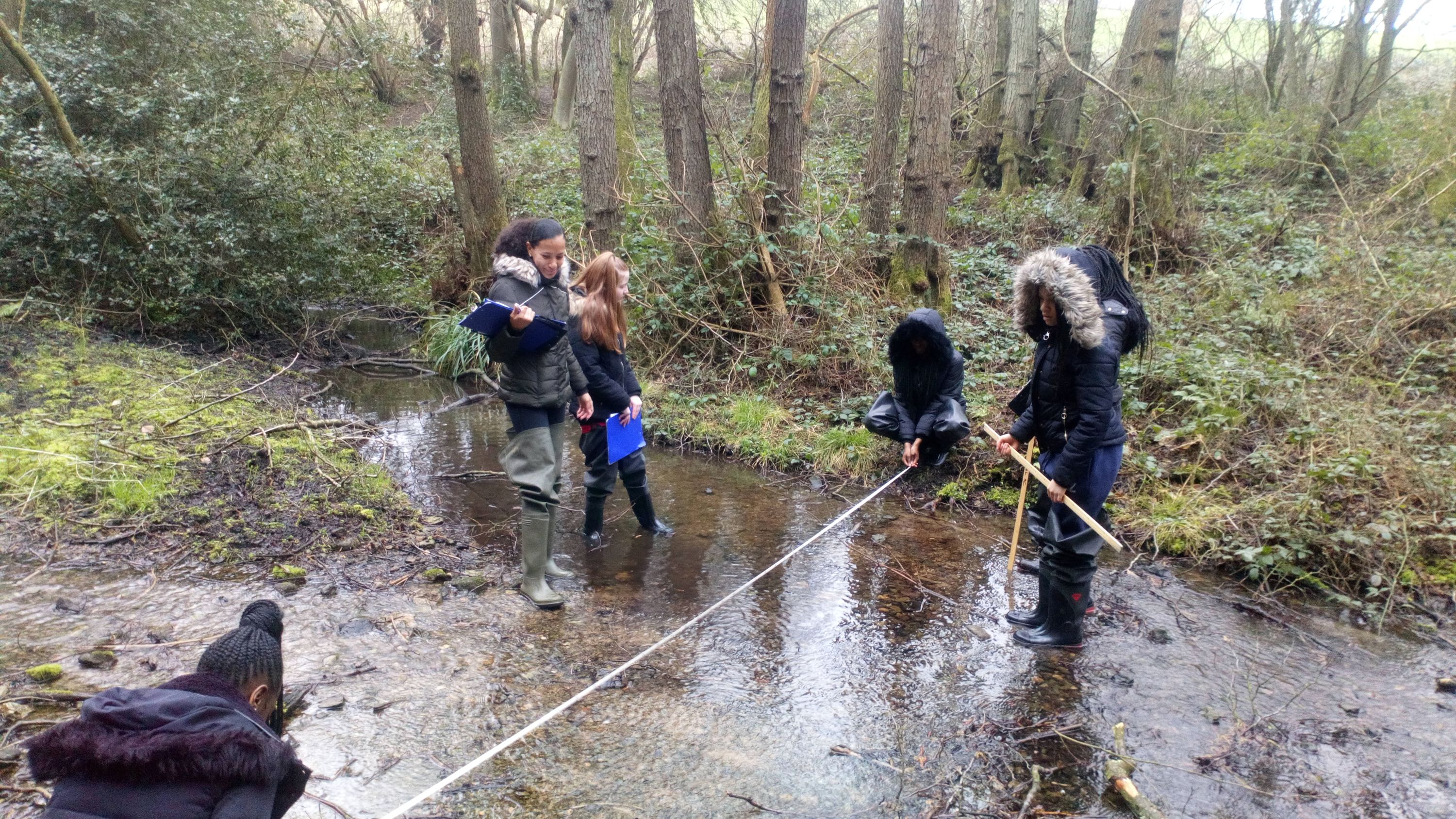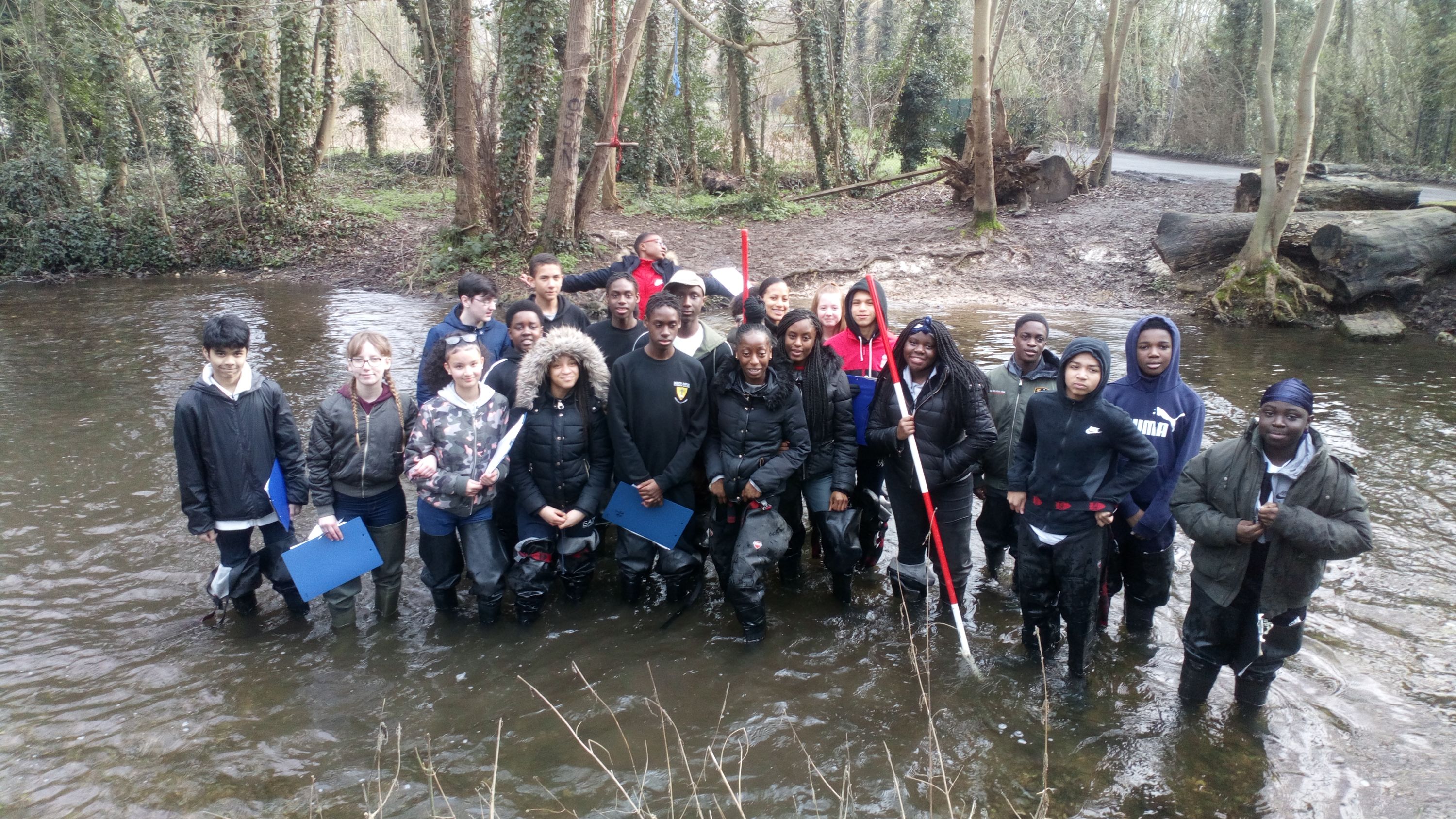 The Lake District Residential 2019
At 5:30am, on a rather cold, dark, Friday morning, some intrepid, but sleepy, Year 10s loaded their bags onto the school minibuses ready to set off for a long weekend exploring the Lake District. After a 9 hour drive, which featured lots of snacks and McDonalds, we arrived at the foot of Catbells in the Lake District, a 400m high mountain overlooking Derwent Water. Despite the steep slopes and some serious scrambling all reached the summit to clear blue sky views across Derwent Water over to Keswick and Skiddaw.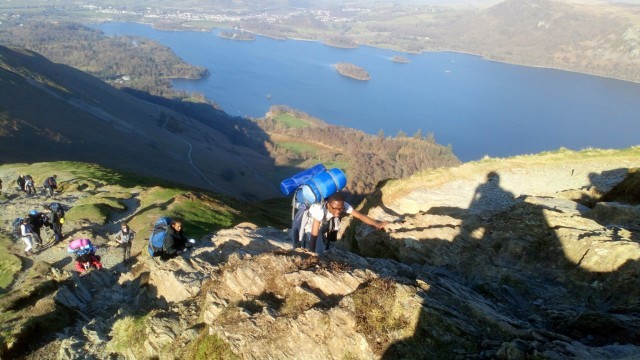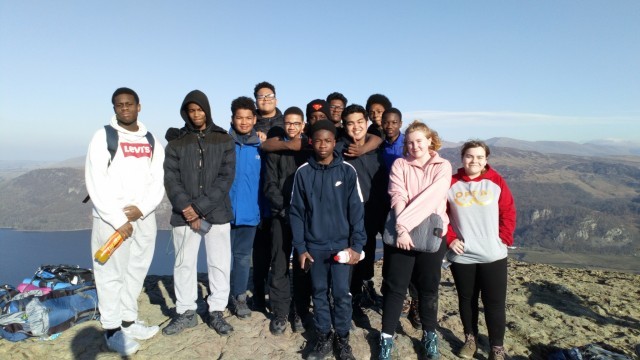 Our home for the weekend was Borrowdale Youth Hostel, nestled in the heart of Borrowdale Valley overlooking the River Derwent, (but where there was not a single bar of mobile reception!) However it was where we occupied ourselves with pool, table tennis and table football and tucked into dinner each evening and full cooked English breakfast each morning.
After a slightly hair rising drive over Honistor Pass on Saturday morning we arrived at Buttermere, a village of only a few houses and an ice cream shop. We set off on our most challenging walk yet, walking alongside the Crummock Water before climbing up to the highest waterfall in England, Scale Force, at over 120ft tall. From there we climbed up over 805m to the summit of Red Pike. However the cloud was coming in thick and fast and meant a detour from our usual route and instead taking the early exit route down Red Screes back down to Buttermere. After a slightly bumpy way down, and after walking 8 miles and for 7 and ½ hours we reached the bottom at Buttermere Lake, having completed a phenomenal day of walking which many adults would find gruelling! Strangely they all slept soundly that night!!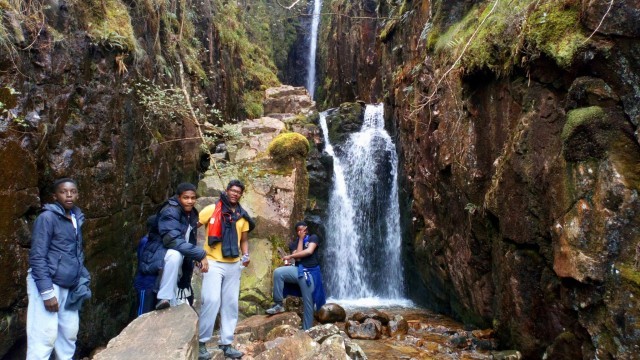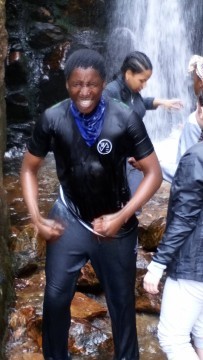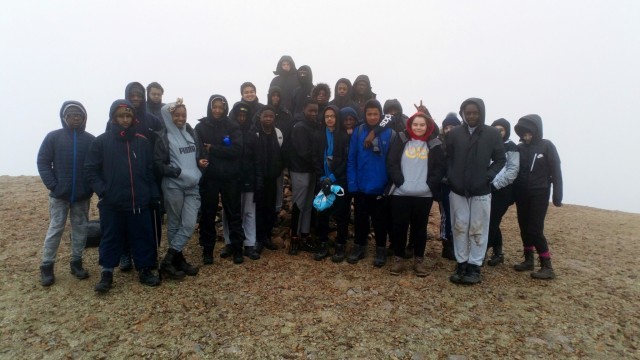 Sunday was a slightly different day. Rather than walking we headed round to get kitted up with a thermal onesie, waterproof trousers and tops, before climbing approximately 250m. From there we descended in a fast flowing mountain stream (known as a ghyll) instantly getting frozen! We then had to make our way back down the mountain by wading through the ghyll, sliding down rocks face first, head face, forwards, backwards, diving through narrow crevices and jumping off 10ft waterfalls into plunge pools! This was exhilarating at it's best!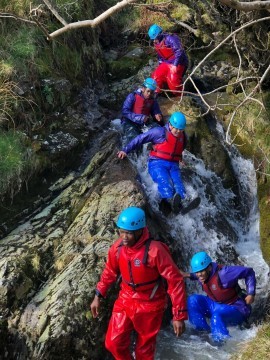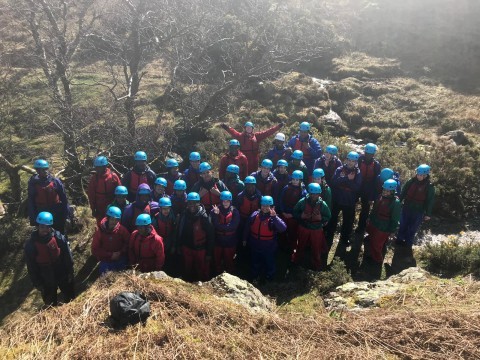 Thoroughly soaked and very cold we headed back to the hostel to dry off and a change of clothes! A couple of hours free time in Keswick was then spent bartering and trading in the legendary Swap Shop Competition – teams were given £1 at the beginning and given 2 hours to swap their way to the best prize they could, returning with a decorative plate, a teddy bear and a necklace!
Sunday night featured a river side camp fire with toasted marshmellows, and strange mystical blue fire, followed by the now annual Bonus Lakeland Award Ceremony.
Mr Lawrence would like to thank all of the Year 10s who came for their outstanding effort and determination, whilst also being a great laugh and pleasure to be with.
Also a big thank you to Mr Rayney, Miss Fullilove, Miss Odlum and Mr Jasper for being the extra staff who made it all work so smoothly, and to Miss McMahon and Miss Howard for ensuring that we were able to go safely.
It was a fantastic trip and Mr Lawrence has already booked again for next year ready for the current Year 9s.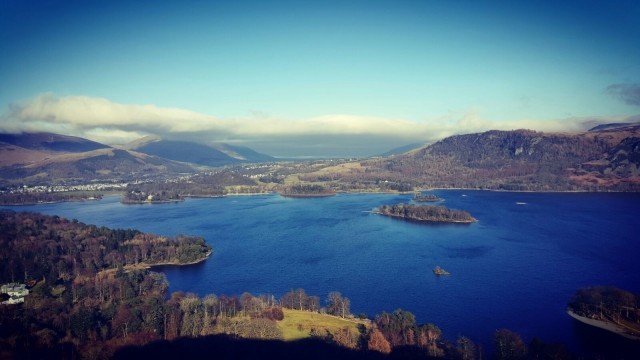 Page Gallery