The Duke of Edinburgh Award
Known within school as the DofE, this is the start of a fun adventure covering all sorts of activities and skills that will help you achieve in your life.
The Duke of Edinburgh's award is recognised and valued by universities and employers alike.
You achieve certificates at certain levels – starting with your Bronze and Silver at Bonus Pastor, and after leaving us can progress onto achieving Gold, which is presented by a member of the royal family!
What's involved?
Your Bronze award requires you to be committed. You will complete a personal programme of activities in four different sections – Volunteering, Skills, Expedition and Physical.
Volunteering - From conservation to youth work to fundraising for your favourite charity or caring for animals, there's an endless list of the types of projects you can get involved in
Skills - From podcasting to playing a musical instrument, fine art to website design, there's an endless list of the types of skills you can do
Expedition - There'll need to be between four and seven of you in an expedition team. With your team, you'll plan an aim for your expedition, decide on your location and do lots of fun training to make sure you're fully prepared and know what you're doing, before going off into the countryside, hiking to and from your campsite and camping overnight!
Physical - From hockey to dance, rock climbing to swimming, wheelchair basketball to yoga - almost any dance, sport or fitness activity can count. You can join a team or do it on your own, concentrate on something you're already doing or try something completely different - it's up to you.
You must do a minimum of 3 months activity for each of the Volunteering, Physical and Skills sections, and plan, train for and do a 2 day (and 1 night away from home) Expedition. You will also have to spend an extra three months on one of the Volunteering, Physical or Skills sections. It will usually take you at least 6 months to complete your Bronze programme.
You'll find yourself helping people or the community, getting fitter, developing skills, and visiting new places through your expedition. The best bit is – you get to choose what you do.
Your programme can be full of activities and projects that get you buzzing, and along the way you'll pick up experiences, friends and talents that will stay with you for the rest of your life.
For our Virtual Parent Meeting 2020 please see the video below:
Why do your DofE?
Good question! Because, from the first day to the last it's a real adventure. Every section gives you something different – that's the fun of it. You'll enjoy loads of new experiences, discover talents you never thought you had, challenge yourself and meet loads of people just like you. Plus you'll do things you love and get a kick out of. It's a real buzz!
Then there's all the other stuff…
…achieving an Award will give you skills, confidence and a view on life that everyone is looking for, from employers to colleges and universities.
…you're getting recognised for doing things you want to do (and may even be doing already).
…you'll make a difference to other people's lives and your community, be fitter and healthier, make new friends and have memories to last you a lifetime.
And above all, it's a great laugh – the question should really be why wouldn't you bother!
If interested please speak to Mr Lawrence at nlawrence@bonuspastor.co.uk
Using E-DofE
You use E-DofE to log all of the details for your sections and to upload your evidence. At the end of your 3 months / 6 months you need your assessor to complete the assessor report (either in your book, or online). Once done, Mr Lawrence will check it all, it will be double checked by another member of staff, before then being sent off to Head Office.
For help on using E-DofE please see the following videos:
Not All Who Wander Are Lost Blog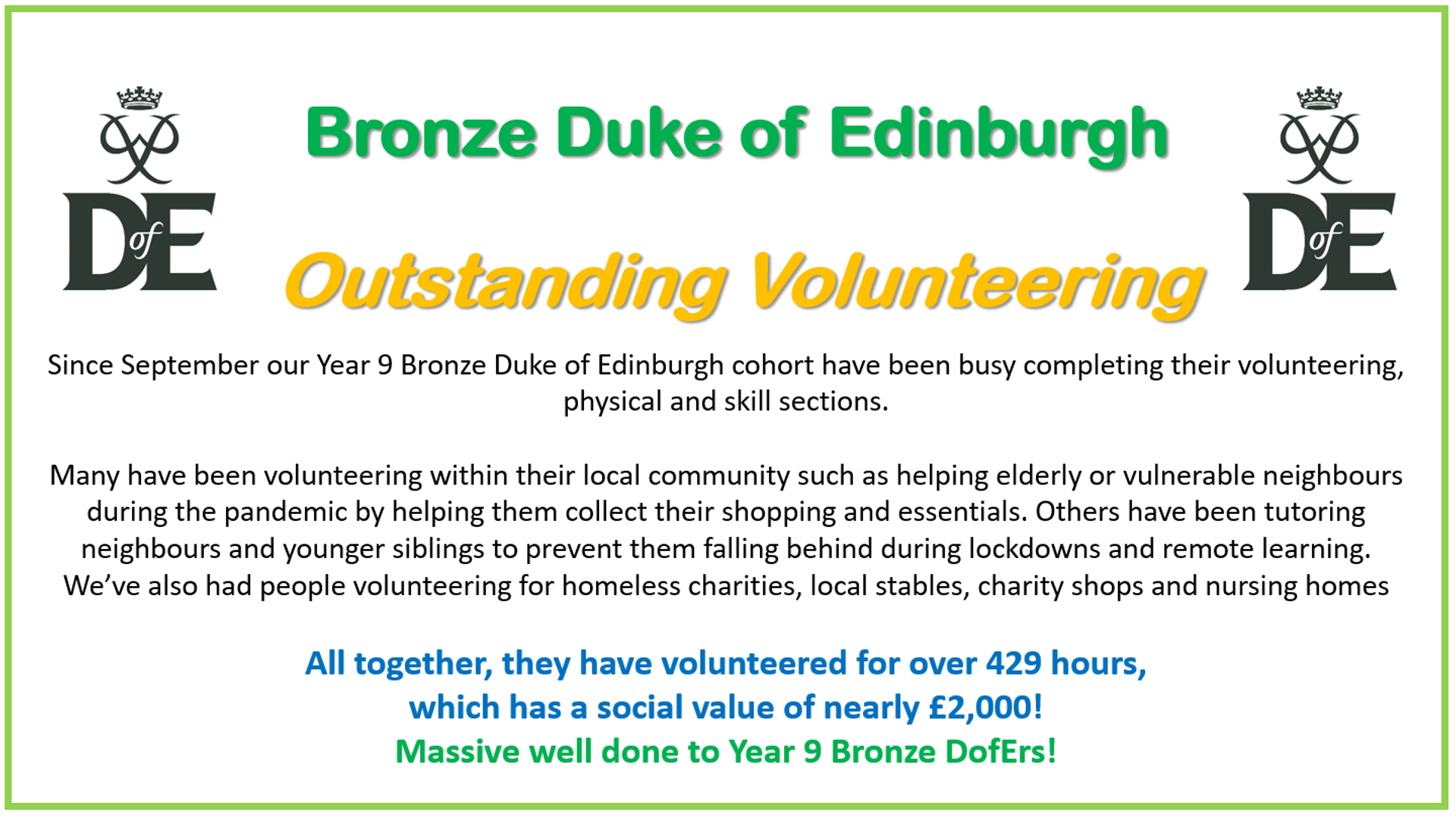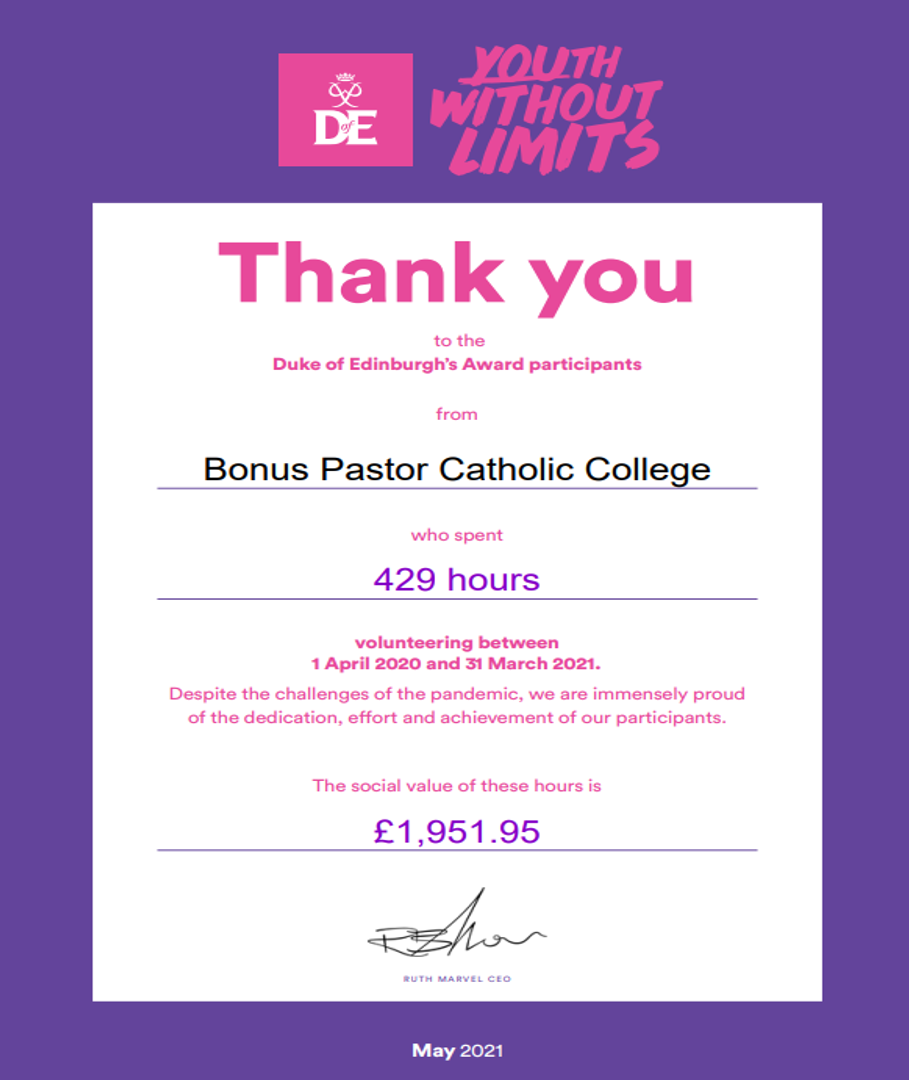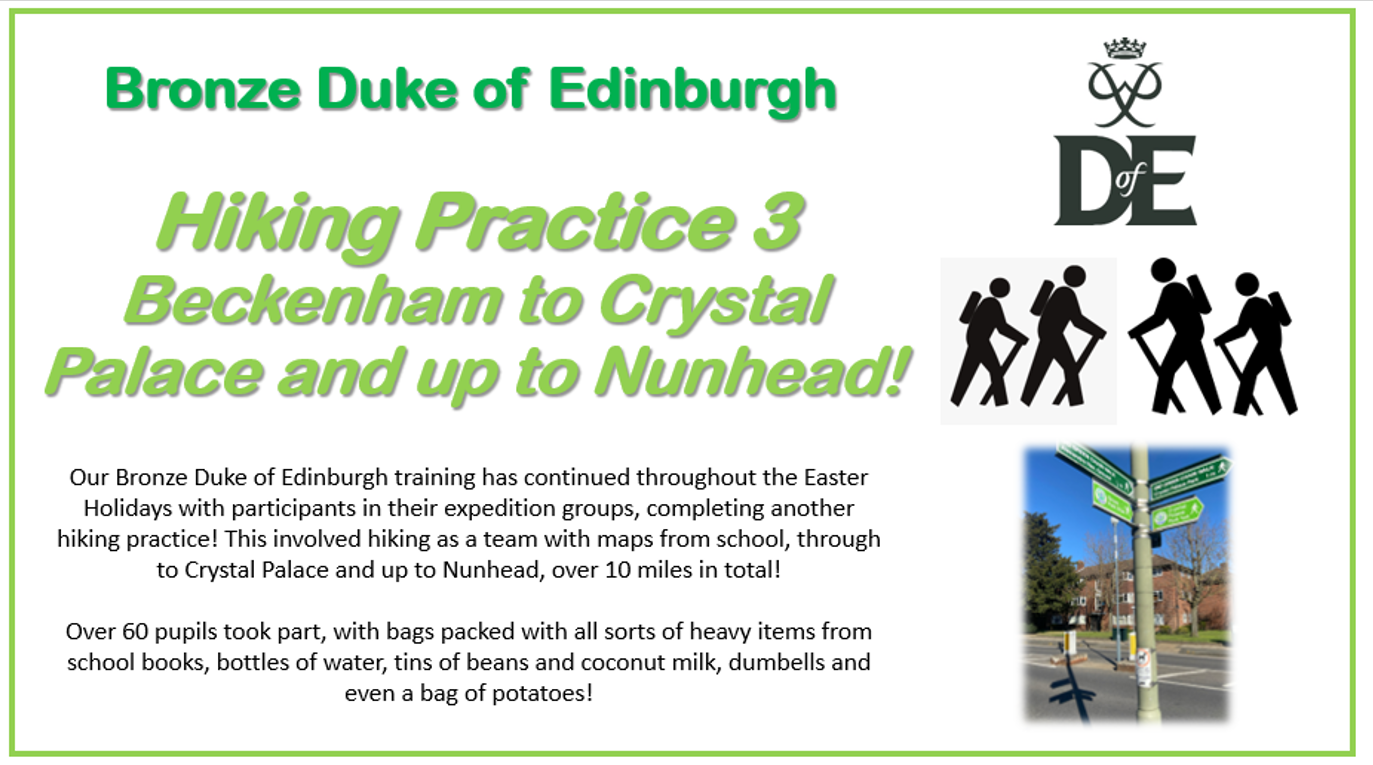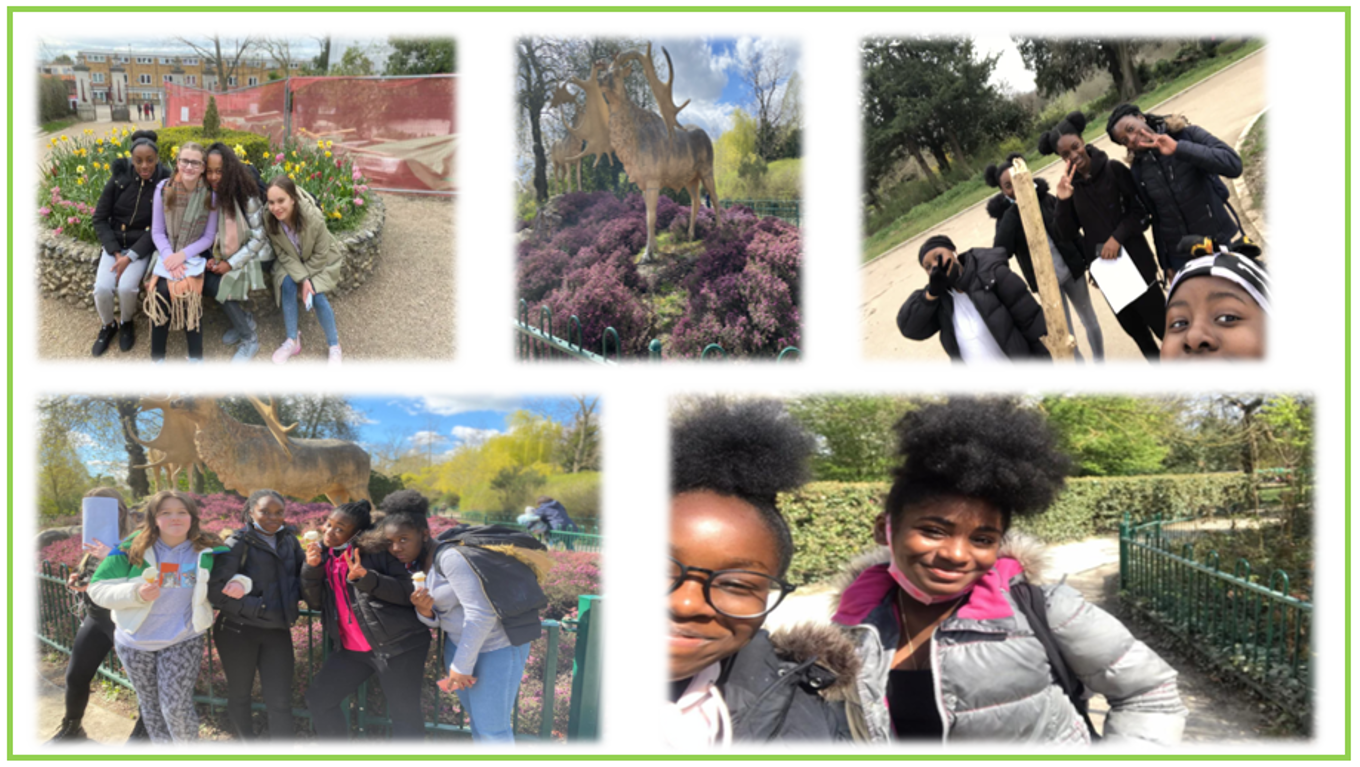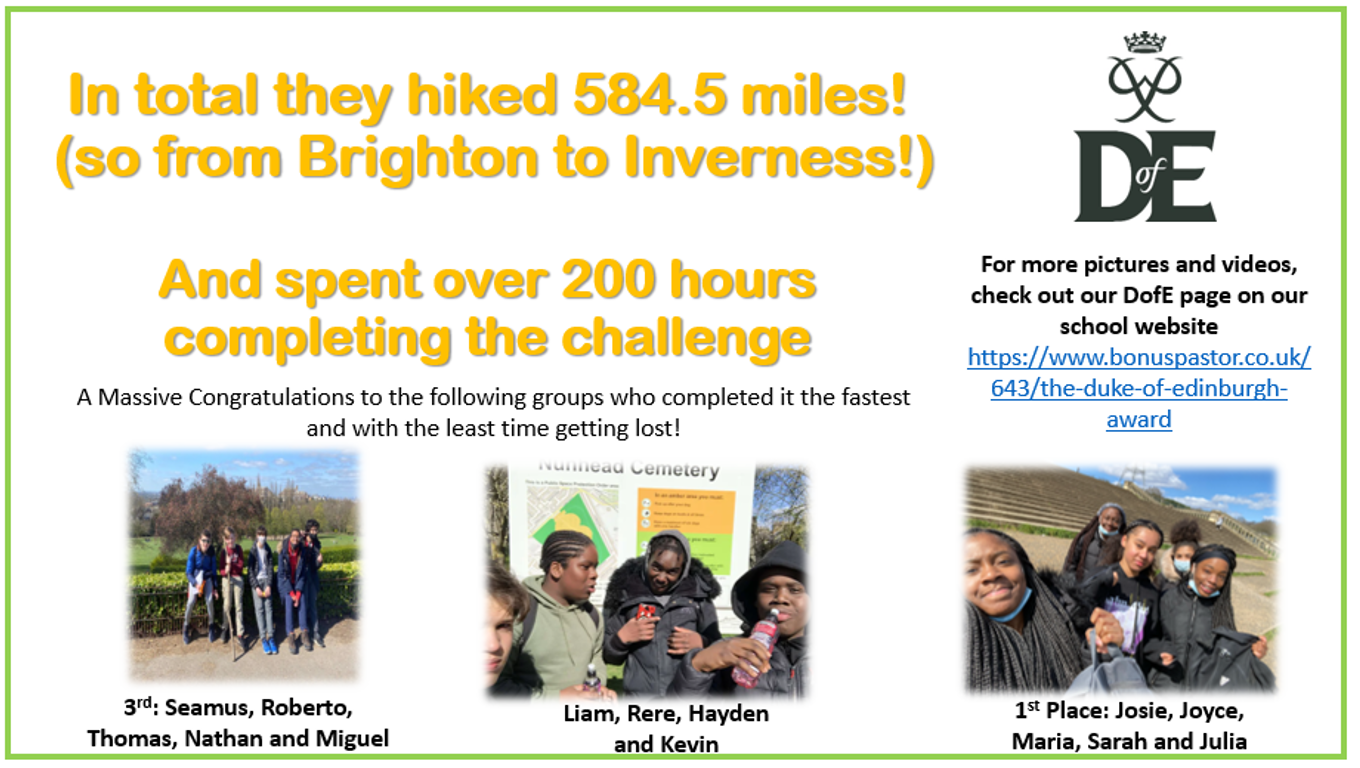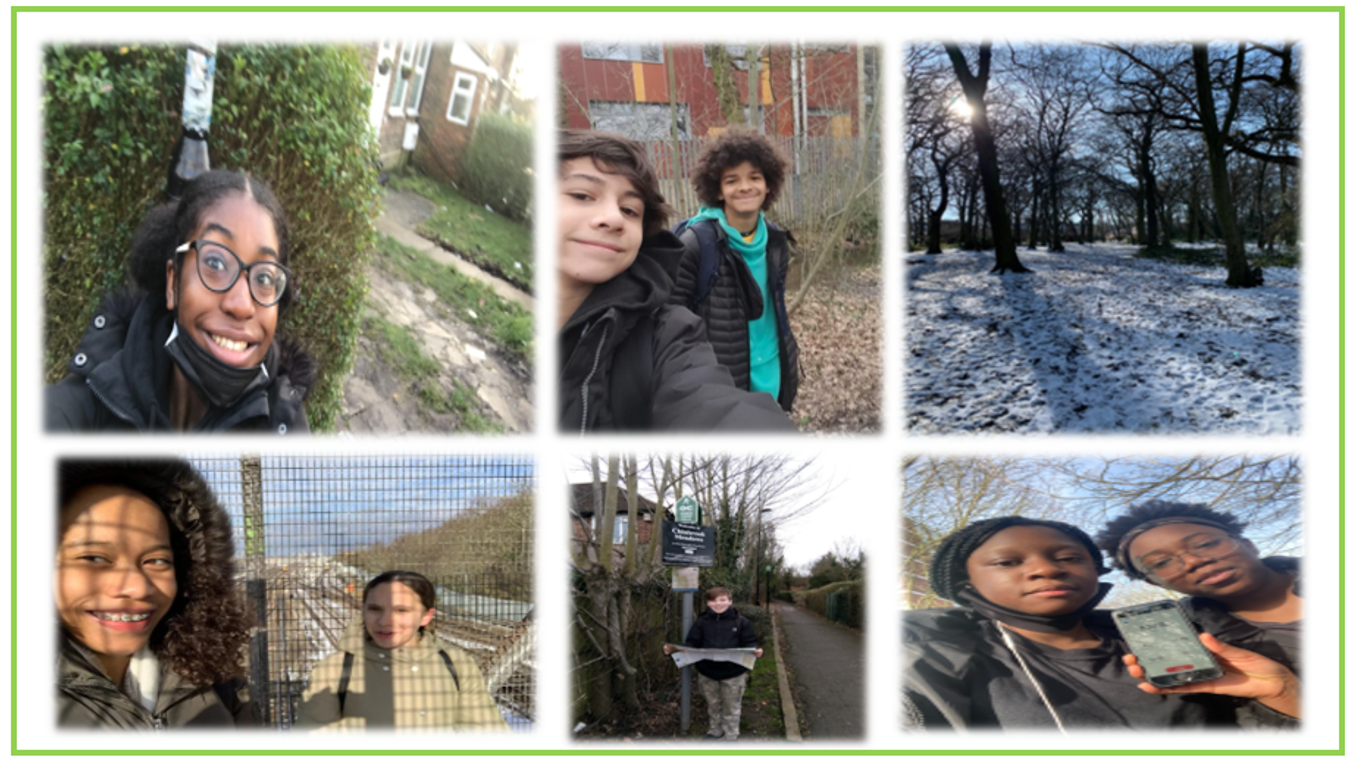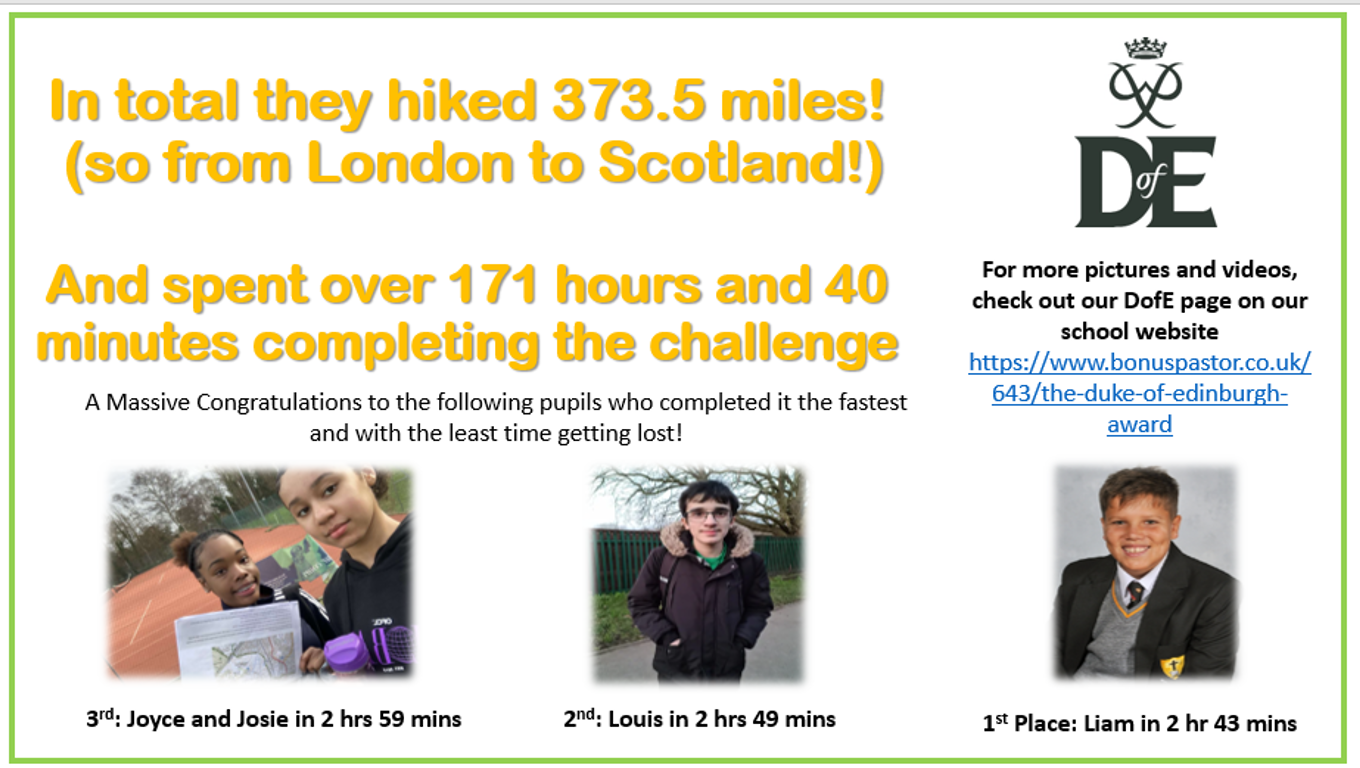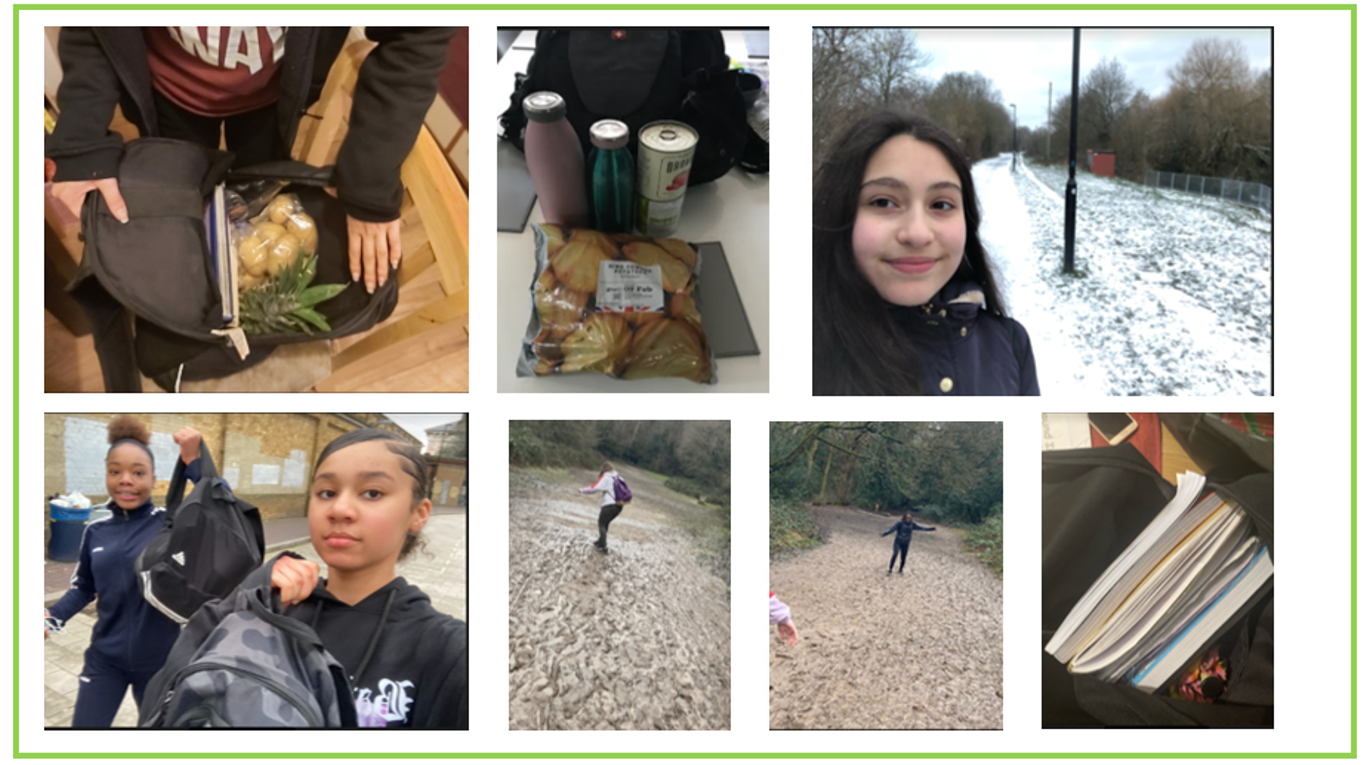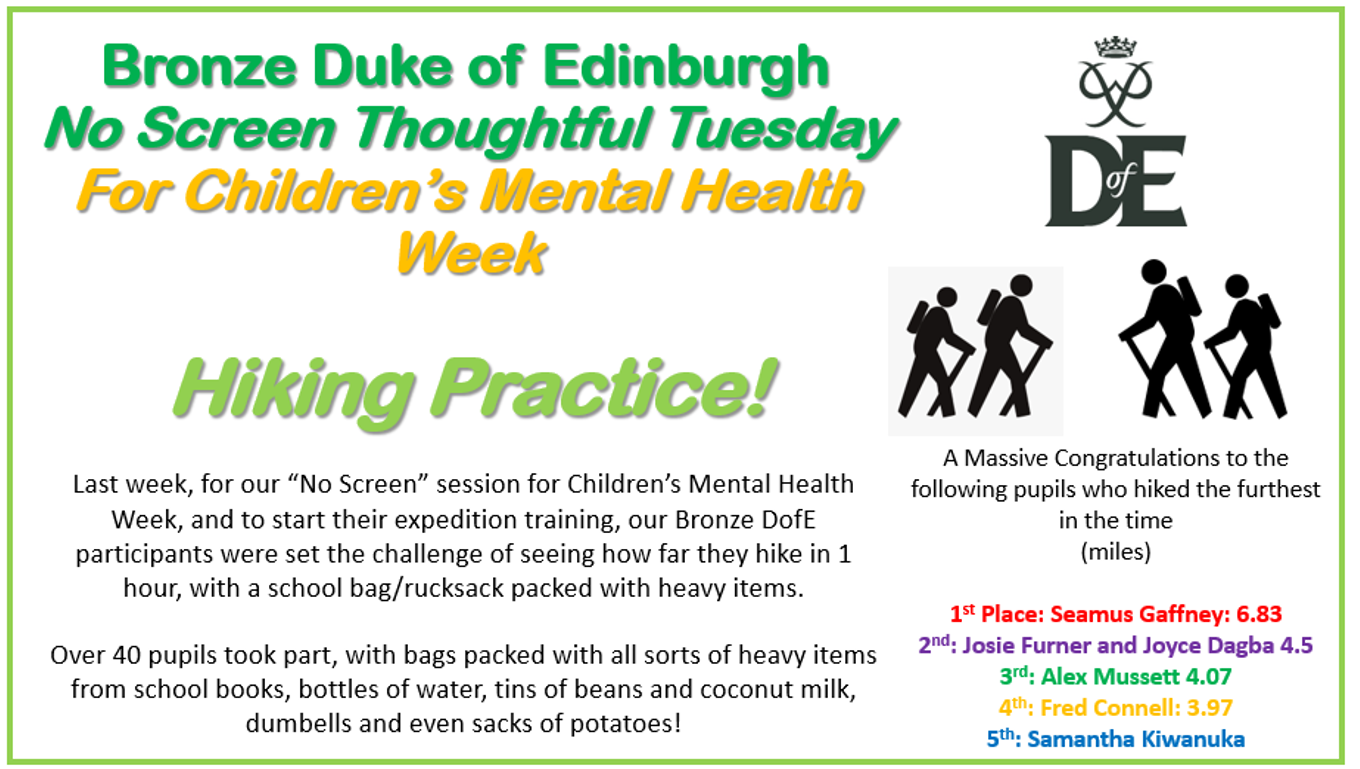 Bronze 2018 - 2019
(And they didn't get lost…!)
The New Bronze DofE Cohort this year have had yet another busy year of training in preparation ready for their qualifying expedition.
In various after school sessions the DofEr's have learnt how to read OS Maps, how to put up a tent; even in the wind; what to and not to cook on a camping stove, and the countryside code.
Pupils then got to learn First Aid from a trained Paramedic called Martyn, and are all now certified to perform First Aid in the Outdoors having learnt CPR, what to do for broken arms, legs and sprains and more!
Their map reading was then tested in 3 practice walks where we explored Mote Park where we practised our navigation, Upnor where we walked over 5 miles in 3 hours and Horton Kirby where we covered over 7 miles in 3 hours.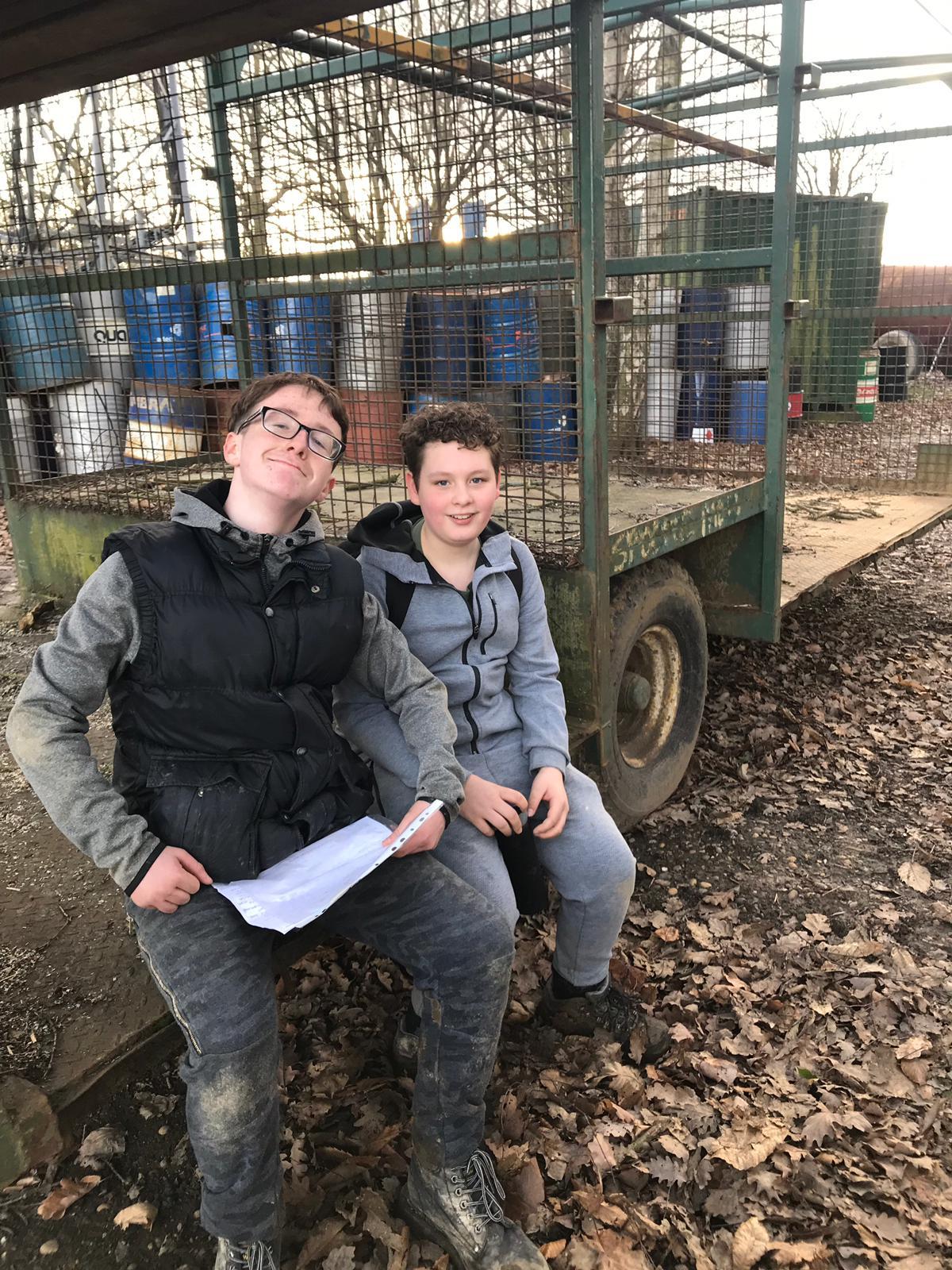 These set them in good stead for their practice expedition back in June. After meeting in school for the bag check and safety briefing groups set off and caught the train from Beckenham Hill down to Otford. By themselves they set off, up what is possibly the steepest hill in Kent…with many regretting already packing sooo many clothes and soo much extra stuff! Over the course of the day the race to the camp site kept changing as groups kept over taking each other, others crashing out for long rests in the sun, whilst others pushed on through the heat to reach Badgells Wood before sundown!
However they were all glad of the shorter route the following day, as the weather had changed and torrential rain meant we, including staff, were all soaked through, and couldn't be happier to reach the end point (after 2 groups went round in a bit of a circle…) and get into the nice warm and dry minibuses!
Then the time came for the qualifier. Bags were significantly lighter this time….more carbohydrates were packed, and they were ready! Setting off from school to get the train to Grove Park they knew this was it, and that they were completely alone. On arriving at Knockholt groups followed a winding route covering nearly 12 miles over 6 hours before all successfully reaching Downe Scout camp! Tents pitched it was time for dinner of various forms of pasta, chilli con carne and curry, though for some it was all too much and they just wanted to sleep!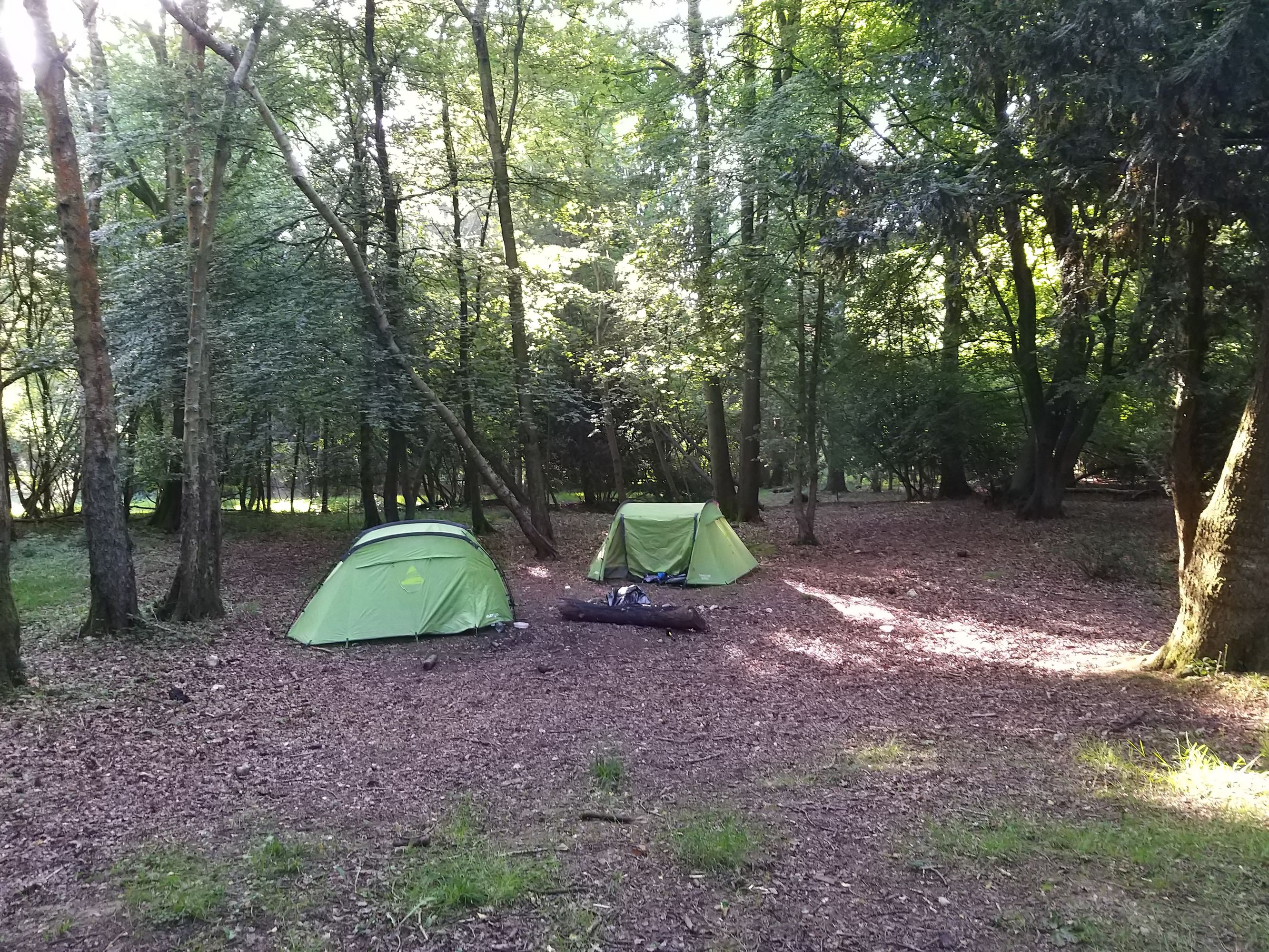 The next day brought the final day and each group set off in anticipation, eager to beat each other to the finish point, and walked at such a pace they beat some of the staff to checkpoints, covering nearly half the route by mid-morning! 1 group struggled to find the final path, but all eventually reached the end point before throwing off their bags for the last time!
This has been another successful year for Bronze Duke of Edinburgh at Bonus Pastor, and we'll be celebrating that and presenting the awards at our Awards Evening in the Autumn Term.
Well done Y9 Bronze DofErs 2018 – 2019! You've been great!