More House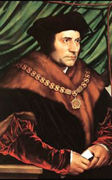 Saint Thomas More (7 February 1478 – 6 July 1535)
Thomas More was an English Lawyer and important councillor to Henry VIII.
Despite his role as Lord Chancellor he was tried for high treason after refusing to accept Henry VIII as Head of the Church. He was martyred by being beheaded in 1535. He was canonised by Pope Pius XI in 1935 as one of the Forty Martyrs of England and Wales.

House Feast Day
His feast day is celebrated on 6th February.
House Leader
Miss S Salmon
The House Motto
Together we achieve More
The House Statement
More House encourages all of its students to promote the attitudes and values displayed by Saint Thomas More throughout his life. These include loyalty to others, commitment to our beliefs and courage and dignity, even in the face of difficulties. We aim to encourage and care for one another during our time together. Finally, we, like Thomas More, recognise the importance of education and strive to ensure that we make the most of it.
The House Prayer
We pray to you St Thomas More to help us be keen students.
Help us to be more like you and pursue justice.
Be friendly and courageous, cheerful and caring,
St Thomas More pray for us
For more information, please contact our Head of More House, Miss S Salmon at:
Miss S Salmon - ssalmon@bonuspastor.co.uk
Latest More House News