Gwyn House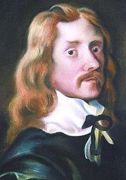 Saint Richard Gwyn (ca. 1537 – 15 October 1584),
St Richard Gwyn was a Welsh school teacher who often changed his home and school to avoid fines and imprisonment for continuing to follow the Catholic faith. He was finally captured in 1584, and was hung, drawn and quartered for high treason. His final words were reported to be "Jesus, have mercy on me."

House Feast Day
His feast day is celebrated on 1st November.
House Leader
Miss L Al-Mousili
The House Motto
Gwyners are Winners!
The House Statement
Gwyn House encourages all of its students to promote the attitudes and values displayed by Saint Richard Gwyn throughout his life. These include dedication to his family, his work as a teacher and his faith. All students in Gwyn house show a strong sense of commitment to the school ethos and aid and encourage all house members in their journey through life at Bonus Pastor Catholic College.
The House Prayer
We pray to you, St Richard Gwyn, that we will be grounded students who stand firm in our faith, despite the many pressures. We also pray that, like you, we have a sense of humour which you so often displayed. St Richard Gwyn, pray for us.
For more information, please email our Head of Gwyn House, Miss. L Al-Mousili at:
Latest Gwyn House News