Art Incubator Project
Back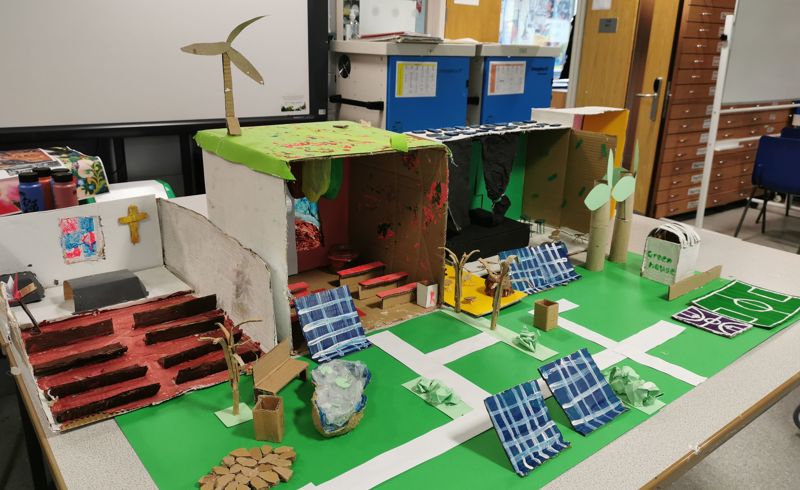 Jun 23 2021
An exciting project called 'The Art Incubator' which involved a professional artist and our Yr 9 Art students took place at school this week. The aim of the project was to look at issues that affect us all and find solutions to raise awareness through the Visual Arts. Bonus Pastor was one of three international schools that took part. Our students discussed diversity, climate change, mental health & wellbeing. Each school made a model of how they would improve the school environment by considering the issues raised. At the end of Day 2 Bonus Pastor students presented their ideas to the other schools via Zoom. Congratulations to all the Yr 9 Art students who took part.
Mr Cooper & Mrs Raymond
"We started the project by brainstorming issues that were important to us - BLM, global warming, pollution mental health and well-being. We worked with a partner to make drawings and show how these issues affect our world. I drew a black woman to show black culture and the importance of black lives. On the second day, we split into 3 teams and recreated different areas of our school whilst taken inspiration from the issues we discussed. We made an eco-friendly Bonus Pastor chapel, music and visual art rooms and a creative outdoor area. We added solar panels and wind turbines made out of cardboard to demonstrate how are school could be more eco-friendly. We designed bright inspiring art and music rooms and a beautiful green outdoor area. This experience has taught me and my fellow students about important issues that affect our daily lives. It taught us that we can make a difference and make the world a happier, cleaner place to live and we can celebrate diversity."
Robert Adoo Kissi-Debrah Yr 9