Drama
Ms V Clarke (Associate Assistant Principal, Head of Performing Arts)

Ms T Salami (Head of Year 8 and Teacher of Drama and English)
The Drama Department at Bonus Pastor Catholic College provides highly effective teaching and learning in drama, theatre studies, and live performance. It aims to equip each student with a wide range of practical skills; a thorough knowledge and understanding of drama and theatre from a variety of periods and cultures; the ability to form opinions about their own and other's work; develop self-confidence in performing and presentation; and the desire to appreciate live theatre as both a performer and audience independently.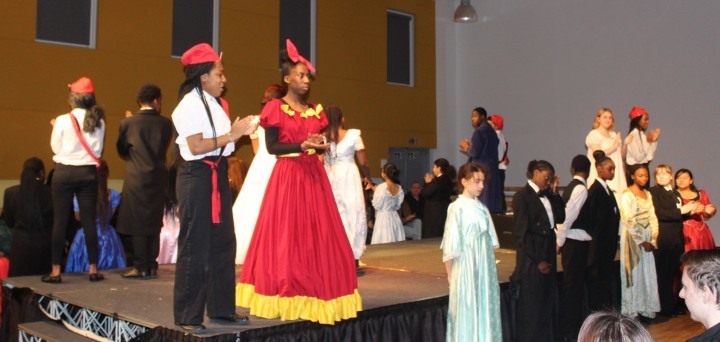 Drama at Key Stage 3:
Lessons are compulsory in Key Stage 3, and pupils receive 2 periods a fortnight, one double lesson, where they are taught a range of devising, performing and evaluating skills. Students are encouraged to develop creativity and collaborative skills through regular group work activities. The topics studied are extremely varied and students are introduced to theatre history from Ancient Greek theatre, to Melodrama, to Medieval Theatre. We use a range of stimulus material in topics, such as anti-bullying and childhood, throughout KS3 where pupils will learn how to create and evaluate their own work as well as explore scripted material. All students are encouraged to develop their confidence through vocal and physical skills as well as learn how to be analytical through constructive criticism.
For a full list of our topics studied please see the Topic Overview Download below.
Homework is usually set twice a half term and will include written evaluation of work they have carried out in class, self and peer assessment, research tasks, learning of lines in preparation for the next lesson and assessments as well as focused improvement tasks.
Drama at Key Stage 4:
Drama is an option subject at GCSE where students continue to develop their skills, knowledge, and understanding attained throughout KS3. Throughout the GCSE course, students are required to develop in confidence by devising their own group performance from a stimulus, perform extracts from scripted texts, and complete a written evaluative exam. The topics studied range from becoming young adults to communication and studying set texts such as Hard to Swallow. Performance styles and genres learned at KS3 will be revisited and built upon. Students can complete the course as a performer and/or a designer (sound/lighting/costume). Theatre visits are an essential aspect of ensuring that students are able to appreciate and evaluate live theatre as well as develop their own practice.
More detail can be found out about GCSE in the section below.
Resources:
Drama practical lessons are taught in an equipped studio which can be turned into to black box or extended into a larger performance space. We also use the main hall for larger performances and whole school productions. Both spaces are equipped with professional lighting and sound equipment. Theory lessons are taught in ICT rooms to provide students with resources to complete research and written evaluative tasks.
Enrichment and Extra-Curricular Activities:
The department runs a weekly drama club on Tuesdays, providing students with an opportunity to build confidence, develop creative skills, teamwork and concentration. It also creates a safe environment to shape positive relationships with other students.
Each year we put on a College Production, where we have over 40 students, ranging from Year 7 to Year 11, involved and working together collaboratively. Students can take part as a performer, sound or lighting technician or member of the backstage crew.
Our previous productions include:
February 2016 – Bugsy Malone
February 2017 – West Side Story
July 2018 – Our Day Out
February 2019 - Les Misérables School Edition
February 2020 - Little Shop of Horrors
We work closely with Lewisham Youth Theatre (LYT) where a number of our Year 7 – 10 students go on to become members of their Technical Theatre Production Group and Junior/Senior Youth Theatre Group. We have also recently developed partnerships with the Old Vic Theatre, through their Take The Lead program where students are enabled to use theatre techniques and creative workshops on five core skills: communication, self-management, self-belief, teamwork, and problem-solving.
Students are also provided with opportunities to audition with industry professionals, both in and out of school and a number of students have been successful.
For more details please email our Head of Department.
GSCE Drama
Qualification: GCSE
Exam Board: Edexcel
Tier of Entry: Single
(Optional Subject)
Drama GCSE engages students' personal development and exploration through encouraging creativity, focusing on practical work which reflects twenty-first-century theatre practice. They develop skills that will support progression to further study of drama and a wide range of other subjects. Students explore the roles of a performer, designer, and director and develop their analytical and evaluative skills. Students will also develop skills in group work, research, and negotiation, while also developing creativity, performance, and design skills.
Course Content and Assessment:
Component 1: Devising (40%) - 60 marks
Practical performance - Internally assessed and externally moderated.
Written evidence - A portfolio covering the creating and developing process and analysis and evaluation of this process. (Handwritten/typed evidence between 1500-2000 words).
Component 2: Performance from Text (20%) - 48 marks
Options to rehearse and perform in solo, partner-based, or group performances which will last between 2 – 15 minutes each.
Externally assessed by a visiting examiner.
Component 3: Theatre Makers in Practice (40%) – 60 marks
Practical exploration and study of one play in the role of a performer, director, and designer. Compulsorily trips to watch and evaluate live theatre performances.
Written exam – 1 hour and 45 minutes.
Further information can be found on the Pearson Edexcel website:
https://qualifications.pearson.com/en/qualifications/edexcel-gcses/drama-2016.html
Homework:
In Years 9 and 10, written evaluative homework at KS4 is set once a fortnight during theory lessons. In Year 11, research and revision homework tasks are set in addition to the written evaluations. Homework tasks will also include exam practice questions and on-going development of the written portfolio.
Revision:
Pupils are advised to buy the CGP GCSE Drama 9-1 Complete Revision and The Play Guide (these are available from the department at a total cost of £6).
Please note if you are in receipt of, or have recently been in receipt, of Free School Meals, these resources will be provided for free.
The Drama page on the BBC Bitesize website is also very useful:
Progression:
The study of GCSE Drama develops self-confidence, communication, and teamwork skills as well as supporting the development of creativity and self-discipline. It enables students to continue studying at a post-16 level in a range of courses including A Level Drama and Theatre Studies and Performing Arts BTEC. It also has links with post-16 English and Music courses.
At the university level, students may study a degree in Drama, English Literature, Performing Arts, Production and Design, and Applied Theatre.
Careers:
Studying GCSE Drama can lead to a variety of careers including:
Actor/Performer
Arts Administrator
Theatre and Set Designer
Director
Playwright
Teacher/Lecturer
Journalism
Theatre Manager
Workshop Facilitator
TV/Theatre/Film Producer
Festival Events
Choreographer
Costume designer
Stage Manager
Youth and Community worker
Radio presenter and producer
Law
For more details, please email the Head of Department
Latest Drama Department News
The Little Shop of Horrors
The Performing Arts Department are extremely happy with the success of our sold out run of Little Shop of Horrors. We had over 40 students involved as a member of the cast, crew and band. Taking on one of the longest–running off Broadway shows of all time, the level of commitment the students gave to the rehearsal process, and the standard of work they have produced is a testament to their levels of commitment, professionalism and focus. Each student's dedication was invaluable with them giving up many evenings and weekends to commit to the rehearsal process. Our talented Catering Club provided delicious refreshments and excellent service before the show and during the interval.
School productions cannot go ahead without the support of parents, carers, staff and friends and we are as always grateful for this. The support from our audience ensures that we can continue to put on an annual production and we are grateful to all those who attended – thank you!
We look forward to next year's production!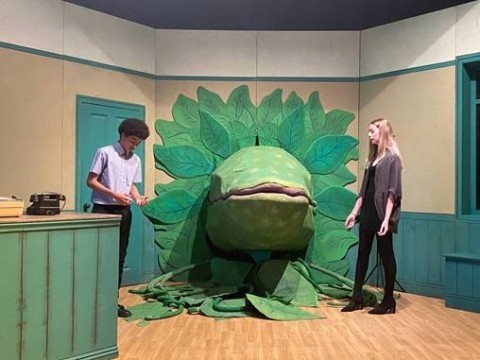 Take the Lead Project
This year, 60 Year 11 students have been invited to participate in the Take the Lead project, run by The OId Vic theatre. Take the Lead is a free employability programme from The Old Vic for students aged 15–18 that uses theatre techniques and creative workshops to build on five core skills: communication, self-management, self-belief, teamwork and problem solving.
The programme is created in collaboration with schools and businesses and draws on The Old Vic's expertise as a theatrical institution to support young people to take ownership over their next steps after school and prepare them for the working world of the future.
Curtain Up
Students engaged in an exciting launch event that introduced the programme; featuring a guest host, guest speakers, a Q&A, a short workshop with Old Vic facilitators and networking opportunities with students from different schools. They were tasked with creating an image that they felt summarised Take the Lead: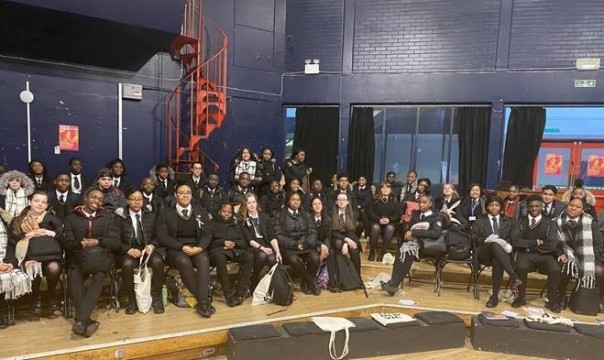 Les Miserablés 2019 Production
In February 2019, we were proud to present Les Miserablés School Edition as our College Production.
Currently, the London production is the longest-running musical in the world. Taking on this hugely popular play, the cast and crew displayed great dedication, devotion and commitment. The rehearsal process was rigorous and the standard of work the students produced is highly commendable.
We had a total of 45 students, ranging from Year 7 to Year 11, involved in the production and working together collaboratively. This enthusiastic group consisted of performers, the Backstage Crew and the band. Supported by staff, students had the opportunity to be responsible for lighting, costume and sound effects in order to enhance the production. Our Front of House team also consisted of dedicated students.
The rehearsal process was enjoyed by staff and students and we look forward to the next production!