Open Events 2022
Welcome To Our Outstanding School
Bonus Pastor is a school where every student is known and loved
Bonus Pastor is an outstanding over-subscribed Catholic school with a warm and caring ethos, with our faith embedded throughout all that we do. Every student is known for their individual and unique strengths in a warm-hearted and friendly atmosphere.
Our culture built on respect and one where we have exceptionally high aspirations for each person. We have a long history of excellent GCSE results and in September 2017 we were graded as 'Outstanding' in all categories by Ofsted.
We are a visionary, innovative and research engaged school. Teaching and learning is at the heart of everything we do and our curriculum is broad and balanced, ensuring that our students achieve the very best outcomes and go onto a wide variety of career pathways. Our excellent teachers know their students well and ensure that their learning is personalised.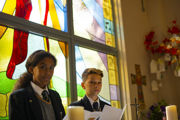 We have a House System, in which every student is welcomed, and through which they work collaboratively with students across the school and build friendships amongst all of their peers through competing in inter house sports and competitions, working hard to achieve house points and celebrating their Catholic faith through their House Saint.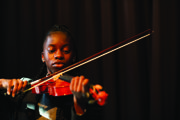 We passionately believe in developing well rounded, responsible, Catholic citizens of the future, and so have a high regard for student enrichment and extra curricular opportunities. Ofsted 2017 commented on 'The wealth of extra-curricular activities' which prepare our students very well for the next steps of their education, and our BP Charter is used as a case study for other schools by the Department for Education

Our innovative teaching and ability to react to the world around us has meant that our students have been catered for brilliantly throughout the pandemic and we have committed to providing every student with a personal device to use throughout their education with us. We have been recognised as certified Google trainers and you only have to look at our weekly newsletters to see that the outstanding achievement of our pupils has continued throughout times of national crisis.
Student attendance is outstanding and we are proud that every student goes on to a suitable college, 6th form, apprenticeship or employment place that is right for them, with many then going onto university. Our thriving alumni, which includes the current Lewisham Young Mayor and many Oxbridge graduates, are regularly engaged in the success of the school and our careers advice is exceptional.
Through Faith to Success
---
Open Events 2022
We would love to welcome you to visit us to find out more on the following dates:
Thursday 22nd September: 6:30pm and 7:30pm Talk and Tour
Monday 26th, Tuesday 27th and Wednesday 28th September 9:15am Talk and Tour
To register your interest to attend our open events please complete the short online form below:
https://forms.gle/QvcDQCsrqYYjreZw5
---
Bonus Pastor is a truly inspiring school
We also have a range of videos and other information below to help you explore our outstanding school.
Firstly, why not take a virtual tour of our outstanding, modern buildings and facilities which you can see below:
Why not hear about Bonus Pastor directly from our Students?
Our Student Leadership Team has recorded a short message about their experiences at Bonus Pastor.
Or here from some of our Year 8 and Year 10 students below
Our Catholic ethos is a key area of school and makes us the warm and caring environment that we are, and is embedded throughout all that we do. You can find more information in the video below, or on our Catholic Ethos page here:
Our House System is an integral part of our school, helping our students build friendships across all year groups, celebrating their Catholic faith, whilst striving to achieve their best through working hard in lessons to earn house points or competing in inter-house events and competitions. Please see the video below for more details, or visit our House Pages here:
We are passionate about developing students to be well rounded, responsible. global Catholic citizens of the future, and a key way in which we do this is through our extensive and wide ranging enrichment and extra curricular programme and the BP Charter. To find out more please see the video below, or click here:
We are also licensed to run the Duke of Edinburgh Award Scheme at both bronze and silver level, and are school in Lewisham with the highest achievement and success rates for participants completing the award.
Could your child with a group of friends go and hike for 2 or 3 days, camping out in the wildness and survive by themselves? Whilst also volunteering in their local community, learning new skills and developing their confidence, resilience and problem solving?
We are very proud that every student goes onto a suitable college, 6th form, apprenticeship or employment place, with many going onto university.
That is because of our outstanding careers programme, and the information, advice and guidance that we provide our students.
Please see the video, or visit our CEIAG page for more information.
Why not also see where some of our Alumni have gone onto, and read some of their profiles here.
Finally, why not see the entire journey that pupils at Bonus Pastor go on right from joining us in Year 7 through to Year 11 and their prom.
Alternatively, why not explore our curriculum pages and learn about our wide range of subjects here:
Why not visit our Galleries page to see photos from across the school from student art work, to residential trips, careers events and more!
Or visit our Latest News and School Newsletter (The Pastorale) to see what happens in our school each week.
We are passionate here at Bonus Pastor about every pupil reaching and exceeding their full potential, striving for their success through our faith, in order for them to become well rounded, responsible Catholic citizens of the future.
We hope your child will join us here to continue their journey.
Through Faith to Success
For all enquires about admissions please email Mrs J Townsend:
TownsendJ@BP.Lewisham.Sch.UKFor all general enquiries please email our admin team at: