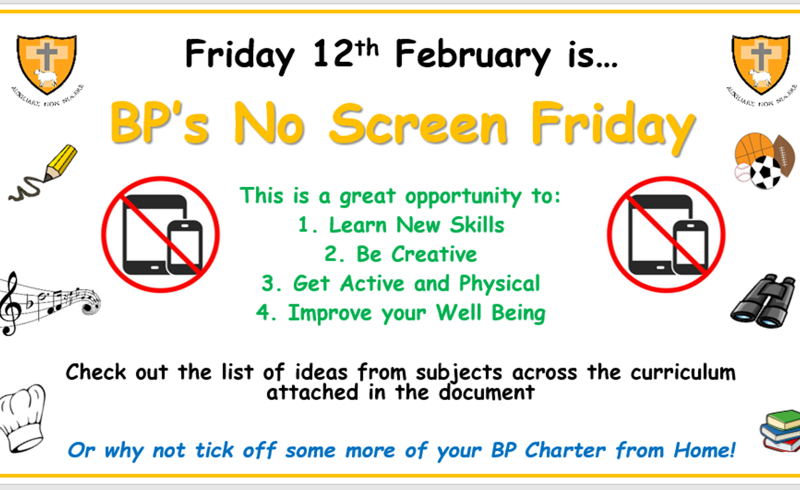 Feb 9 2021
We at Bonus Pastor have been so impressed with how our students have adapted and engaged so fully with online learning over the past 6 weeks. We know it has been challenging, but they have shown dedication and commitment and we are so very proud of them.
Whilst we as a school are now offering live and interactive lessons across the curriculum, we do recognise the impact that this increase in screen time, and the lockdown itself can have on our pupils. Consequently, building upon our work for Children's Mental Health Week last week, and as part of our wider pupil enrichment and wellbeing strategy, Friday 12th February is going to be "No Screen Friday."
Online lessons will not take place during this day, and pupils will not be required to log into Google Classroom.
Instead we have a wide range of activities that pupils can participate in to:
Learn and develop their soft skills, which are so crucial for their post 16 pathways and career opportunities;
Get creative, whether that's artistically, musically or dramatically
Be healthy and get active and physical outside
Reflect upon and deepen their Catholic Faith
Tick off some of their BP Charter from Home, our certified accreditation that pupils can be awarded, showcasing their achievements.
For ideas of a range of No Screen Activities to be trying and getting involved in, see our list from across the curriculum, and our BP Charter from Home below.
Ideas from Across the Curriculum
Please note that some of the activities require pupils to maybe look something up online beforehand, so we suggest they do this before Friday.
Other activities encourage your child to go outside, but please also do ensure that they continue to follow the COVID19 guidelines. These can be done as part of their daily exercise which they can do either with their household, or with just 1 person from 1 other household locally.
For more information see Mr Lawrence's assembly below