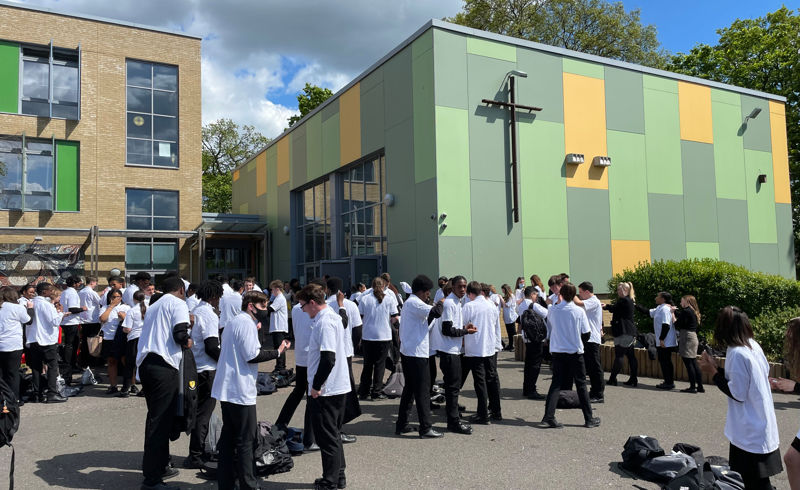 May 28 2021
The class of 2021
As we come to the end of a busy half term we reflect on all that we have achieved. We said goodbye to the wonderful class of 2021 who will now work on transition to KS5 over the course of the summer. They worked so hard with assessments over the past few weeks and despite all of the disruptions they have experienced this year, they demonstrated incredible resilience and commitment. We managed to have a leaver's Liturgy this week and were able to take part in some of the traditional leaver's activities (with social distance respected and applied). We look forward to having them back for their prom, which will take place at the St Dunstan's Jubilee ground.
Trips are back!
Thank you to Mrs Raymond and the Visual Arts department for taking our first trip of the year. By this time of year we are normally reflecting on the hundreds of educational visits we have experienced so it was great to see our trips back. The year 10 photographers took some amazing shots in Beckenham place park and the photo below really caught my eye from Aleesha.This picture conjures up a feeling of coming out of darkness into light. Well done to all students who took part.
Please see the flier for the amazing Bonus Pastor Art Gallery shop detailed in this edition of Pastorale! We are very excited to promote our amazing artists in the Art world!
Race for Racial Justice
We were incredibly proud of our Year 11 students who chose to mark the anniversary of the death of George Floyd by 'Speaking out' in support of Race4Racial Justice. Please see a link to the amazing video which was expertly put together by Ms Delaney and Ms Clarke
https://twitter.com/bonus_pastor/status/1397169716280668161?s=20
To read our full newsletter please click here:Pastorale-Volume-18-Issue-27.pdf
Hope you all have a restful half term
God bless
Mr Ronan
Principal